Family Told To Go Shopping, But Shaq Has Something In Store For Them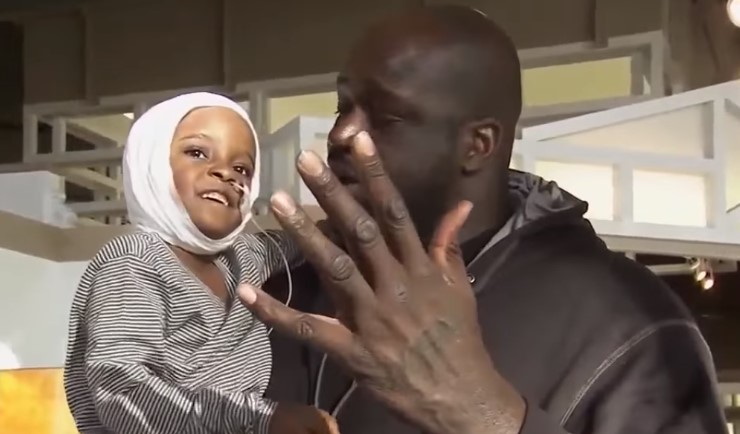 Syrai always loved dogs. If she had to pick a favorite, it would be a dalmatian. They reminded her of ponies. Every time she passed one, she would have to stop and talk to their owner. Some bred puppies most didn't, but she always inquired on prices to report back to her father, Willie. He knew of her obsession ever since watching "101 Dalmations." Unfortunately, they didn't have the room, or the means to support a large, growing dog. Syrai understood this. She was beyond her years and noticed her family struggle. Little did they know, their struggles had just begun. "My cousin Briana said the dog, the dog is coming to bite us, and then everybody started running," Syrai retold her ordeal. "I tried to hold Briana, but I was too slow and then the dogs made me fall on the street, and then they bit me on my head and my ear." She then called for help as the dogs continued to hold her down. "I couldn't open my eyes because my eyes were shut because the dogs bit me all around and blood started coming out." Then, everything went black. Syrai woke up later in the day in a confused state. Her entire body burned. Tubes and wires spun from her like a web. And she spent the following weeks in intensive care. She didn't have the energy to chew or swallow. But Logan wasn't as lucky as Syrai.
To the Williams' disbelief, Logan's injuries were too much for the small boy to endure. News of the tragedy spread awareness to the dangers of unleashed canines When Shaq's daughter told him of Syrai and Logan's nightmare, he couldn't help but reach out to their families. When Rooms to Go of Atlanta invited the Williams to their store, they didn't know what to expect. Upon arriving, they were told to have a look around and pick out whatever they wanted. But when Shaq stepped out from behind a wardrobe in the bedroom section, Syrai's legs went weak. And her father couldn't contain his awe. Shaq told the Williams to pick out whatever they wanted because the bill was on him. They couldn't believe his generosity. Syrai was left fighting for her life after actively trying to avoid an unleashed dog. After a long fight, she's finally getting back to her old life of school and fun. But Logan wasn't as lucky. Their accident has raised awareness of the importance of dog control. Although Syrai has lost her best friend, she believes him to be an angel, watching over her. Here's to a speedy recovery, and the kindness of strangers!