50 of The Most Beautiful Travel Photographs You'll Ever See
Give your eyes a vacation. Enjoy 50 of the most beautiful travel photographs that will make you want to go out and explore the world!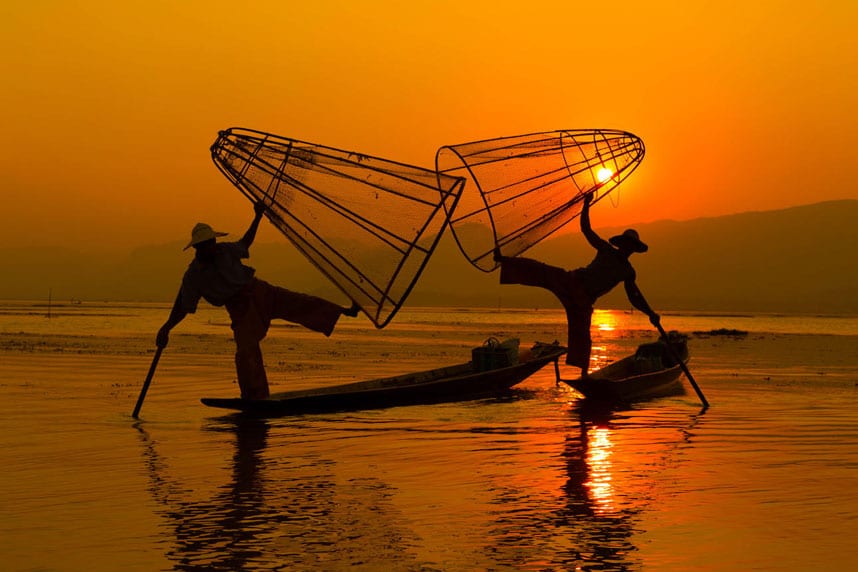 Give your eyes a vacation — we've got your ticket: 50 of the most beautiful travel photographs that'll make you want to go out and explore the world! Are you ready for an instant holiday? If you're anything like us, then you could spend whole nights browsing the web for inspiring pictures of exciting destinations while planning your next adventure abroad, even if it's just in your mind! An image often says more than a thousand words. The travel photographs shown below are handpicked for you. They are not simply pleasing to the eye. They inspire your imagination.
Check out the top 50 editor-favorite, wanderlust-provoking images published during the past decade! And don't worry: these are far from the usual cliché travel photographs!
50.) Chocolate Waterfalls
These falls are also known as the Chocolate Falls because of the brownish color of the cascading water.
The turbulent rush of waterfalls downward some 185 feet — more than the drop of Niagara Falls.
49.) Lightning Bolt
People love thunderstorms because they are pretty.
This lightning strike is over a volcano, making the lightning extra amazing.
48.) Fire and Water
Our favorite part of this picture is that there are mostly neutral colors.
The fire that the man is holding makes the color pop even more.
47.) La Tomatina
There is a festival in Spain called La Tomatina. In this festival, they throw tomatoes in the street and start a fight.
Although it sounds a little crazy if you're not from Spain, this fun festival is for entrainment purposes.
46.) Tropical Sunset
Every person loves good tropical travel photographs that make them feel like they are at the beach.
This picture does just that, and we are in love!
45.) Chilean Cowboys
You might be scratching your head right now. A Chilean cowboy is a countryman and skilled horseman, similar to the American cowboy or Mexican charro.
These cowboys are located in Chile, and they are similar to the gaucho of Argentina, Uruguay and Rio Grande do Sul.
44.) Iceland From Below
Iceland is known for being a place to take aesthetically pleasing pictures.
But have you seen Iceland from Below? We haven't, and we are in shock by its beauty!
43.) Deep Blue
Ah, the deep blue sea! It's always amazing when you can see what it looks like.
The best part of this photo is the sun is shining down into the water.
42.) Sail Away
You always seem pictures of boats in water, but these travel photographs are usually shot from shore. These photos can be boring because it is constantly done.
The best part about this photo is that the photographer is taking it from the top. The photo shows every detail of the boat.
41.) Skinny Dipping
Missing the warm ocean? We are too!
This photo makes us want to go swimming!
40.) Magical India
This photo looks like a drawing.
India is magical because there are all different creatures there. Look how beautiful that elephant is surrounded by trees.
39.) Reflections
The reflections in this photo are amazing.
The mountains on the water seem so breathtaking. This is one of the travel photographs that make us want to pack our bags and travel solo.
38.) The Camel Trader
Our favorite part of this beautiful photo is the camels!
They are following the owner like a baby duck.
37.) The Journey Behind You
We are daydreaming about the next adventure to far-away tropical beaches from the picture.
Let's start counting down the days now.
36.) Color Splash
The colors coming from these windows are gorgeous.
The lady's dress is gorgeous because the colors reflect off of it.
35.) Midnight Blue
The black and blue colors featured in the picture are harmony together.
This travel photograph makes people want to go out on a body of water at midnight.
34.) Girl on the Stairs
We love that this girl on the stairs is dressed like she is going to an important ceremony.
She looks so beautiful in her outfit!
33.) A Balancing Act on the River
Do you think you would be able to balance on a boat like this?
These fishermen look talented.
32.) Cotton Candy-Covered Paris
Paris at night is beautiful, but it is even more beautiful when the sky looks like cotton candy.
It's puffy, and it looks delicious.
31.) The Novice Monk
This young monk looks wise behind his years.
The best parts of this photograph are the colors and the striking way the boy stands out against the background.
30.) It's Windy Outside
Have you ever seen a fox on a sandy beach like this?
Let's hope he got out safely and that sand didn't get in his little eyes.
29.) Santorini Sunset
The whitewashed building with the colors of the sunset is so beautiful.
It looks like a painting, but it's so much better!
28.) The Bottom of the World
You would think the bottom of the world would look gross.
This photographer made it look picture perfect.
27.) The City Hills Challenge
Outdated housing can make the best photos.
We love the pink house against the gray sky.
26.) A Mystery of Mother Nature
It is crazy what mother nature can do.
You know that it can do some unexplainable things, and we are happy it does when it produces travel photographs like this one.
25.) Picture-Perfect Egyptian Temple
Temples like this were created before modern technology was around to make such beautiful objects easy.
It makes you stop and think of just a second.
24.) The Fountain
This photo reminds us of summer fun in the sun.
The fountain is peaceful, yet a place to have fun and create memories.
23.) A Maze of Alleys
The pink wall and her beautiful clothing make the picture pop.
It's a maze full of colors.
22.) The Sweet Land
Is this the desert?
Who knew it could look this beautiful?
21.) Diamond Dust Light
Walking in a winter wonderland! That is the song you would be seeing if you saw this.
This travel photograph shows the beauty of the winter season, even if it is cold!
20.) The River Flows Deep
The color of the water compliments the boring colors of the land.
The water flows so deep that the dark and light colors compliment each other well.
19.) Mystical, Moody Faroe Islands
The Faroe Islands are located in Denmark.
The crisp blue water and the green grass make this location look like a place everyone should visit.
18.) Wild Beauty of Peru
Our favorite part of a photo is being able to see what people's cultural background is.
A picture is worth a thousand words, and this group of a thousand animals is no exception.
17.) The Golden Hour
We would love to look across the canyons and admire how beautiful nature can be.
The colors in this travel photograph are beautiful together!
16.) Futuristic South Korea
South Korea is known for its technological advances.
This building shows futuristic vibes, and we are living for it.
15.) Winged Devil's Risky Art
We have so many questions about this picture.
Why are they dressed up? And how are they able to blow fire like this? It's definitely a talent. 
14.) Natural Textures
People think that textures are so interesting.
You are able to see every groove and bump with this photo. It's a great view!
13.) Bird's View of the White Mountain National Forest
It would be interesting to see what a bird sees every day.
Imagine if we got to see this as part of our daily life. The birds must be flying high!
12.) Holy Mirror
The puddle makes the church look more breathtaking.
We're sure this building is amazing without the water, but the reflections make this travel photograph pop even more.
11.) The Endangered King of the Jungle
Gorillas are the king of the jungle.
This big guy is making sure he is heard when he is voicing his feelings!
10.) Finding Paradise in Hawaii
Hawaii is known for its beautiful history and stunning the scenery.
People get lost on these mountains to find themselves. This travel photograph makes us want to get ready to go to Hawaii immediately.
9.) Pool Day
The pool is a sign of relaxing and enjoying yourself.
That is what this picture represents!
8.) Northern Lights in the Night Sky
There have been many beautiful travel photographs of the Northern Lights. However, we have never seen one where the Northern Lights are in the clouds.
The clouds make the Northern Lights even more stunning to look at.
7.) Silhouettes at Sea
The figures look like they are in the sea.
They are enjoying what is left of the sun as it sets. 
6.) Hold Your Breath
Hold your breath while you go underwater!
It may turn into a stunning travel photograph.
5.) Duomo at Sunset
A duomo is a cathedral that is usually a Christian church.
This one seems like it can capture the attention of all of the city's residents.
4.) Taming a Beautiful Beast
This photo seems like it would be from a movie.
The horse is white, and the background looks like a magical set.
3.) Up High in the Mountains
It's amazing when the mountains are higher than the clouds.
This is one of the travel photographs that will amaze us forever.
2.) Mexican Wedding Celebration
Every country has a different culture surrounding weddings.
In Mexico, weddings are colorful and exciting!
1.) Matterhorn Mountain Anniversary
The lights going up the mountain makes you want to travel up and see more.
It's filled with snow and adventure.