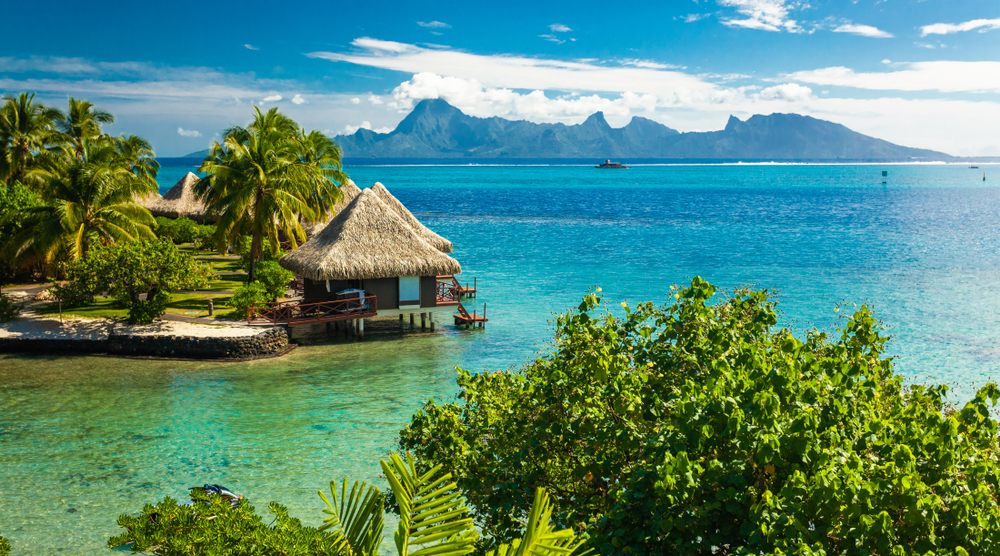 Tahiti is the largest island in French Polynesia in the South Pacific. It is a magical place with beautiful sandy white beaches, turquoise lagoons, and friendly local charm. If you are planning a trip to Tahiti, there are many options that could look into for your stay on the island. However, we have done the hard work for you and found the best hotels in the area.
Here are 25 of the best hotels in Tahiti you'll want to visit. 
25.) The Brando
Location: Tetiaroa, Arue 98702, French Polynesia
The Brando is one of the world's most exclusive private island retreat. Named in honor of after Marlon Brando, this all-inclusive resort has 35 spacious luxury villas that feature private plunge pools, spa baths, and direct beach access.
24.) Tahiti Ia Ora Beach Resort (Managed by Sofitel)
Location: Tamanu Punaauia, 98718, French Polynesia
The Tahiti la Ora Beach Resort features luxuries hotel rooms with stunning views of the ocean alongside overwater bungalows with private terraces. The hotel comes with a tiki-style bar and free snorkels and kayaks.

23.) Manava Suite Resort Tahiti
Location: Bp 2851 Punavai, 98703 Punaauia, French Polynesia
This amazing resort is just a 10 minutes drive from Faaa Airport. You will check-in and relax instantly at the Manava Suite Resort. All you have to do is kick back and enjoy the lagoon views and an infinity pool.

22.) Fenua Mata'i'oa
Location: Village Tiahura | PK 25.5 C/Mer, Haapiti 98729, French Polynesia
The Fenua Mata'i'oa is a tropical paradise away from home. The resort is on the edge of a turquoise lagoon where the scenery will take your breath away.

21.) Le Méridien Tahiti
Location:Puna'auia, 98718, French Polynesia
Located along the beach, this hotel is ideally situated to enjoy a beautiful sunset along the South Pacific while sipping delicious rum cocktails or two.

20.) Vanira Lodge
Location: PK 15.6, Taiarapu-Ouest, Tahiti
Vanira Lodge is a peaceful location to setback and relax. Or, if you are feeling more active, use one of the free on-site bicycles and explore the area.

19.) Te Fiti Island Break Mahina
Location: PK 11 – Mountainside, 98,709 Mahina Tahiti, French Polynesia
The accommodation at Te Fiti Island Mahina includes a free continental breakfast, which will set you up for a day of exploring. Nearby you will find Pointe Venus Lighthouse and Tomb of King Pomare V. Papeete Market.

18.) Le Taha'a Island Resort and Spa
Location: Motu Tautau, French Polynesia
Located 30 minutes by boat from the island of Raiatea, this deluxe hotel is on a small, secluded private island. Here you'll have access to a gorgeous coral garden and stunning views of Taha'a and Bora Bora.

17.) Ninamu Resort
Location: Rangiroa, French Polynesia
The Ninamu Resort is hidden away on a private island, just five minutes from the airport by boat. Surrounded by pink sandy beaches and abundant marine life, this accommodation is a must for Watersport enthusiasts.

16.)Maitai Lapita Village Huahine
Location: Fare, French Polynesia
Built around a carefully preserved archaeological site on the western shore of Huahine, the lakeside Maitai Lapita Village is something to behold.

15.) Hotel Hibiscus
Location: Moorea-Maiao, French Polynesia
You will be surrounded by a lush coconut grove and white sandy beaches during your stay at hotel Hibiscus. Enjoy the traditional island charm, get away from it all, and enjoy island life.

14.) Cocoperle Lodge
Location: Ahe, French Polynesia
Cocoperle Lodge is a family-owned eco-lodge full of charm. It is set on the secluded shore of Ahe, which is on a dedicated preservation area.

13.) Motu Teta Private Island
Location: Motu Teta Private Island, Rangiroa, French Polynesia
Motu Teta, or Motu Tetaraire as it is formally known, is a small pristine island exclusively for private rental accommodation. If you are after a private island that offers seclusion and breathtaking scenery, this is the one for you.

12.) Raiatea Lodge Hotel
Location: BP 680, Uturoa Raiatea 98735, French Polynesia
The Raiatea Lodge Hotel is the ideal home base to explore both Raiatea and Taha'a. The resort is on the Northwest coast of Raiatea, facing nearby Bora Bora and covering two acres of beautiful tropical gardens.

11.) Opoa Beach Hotel
Location: pk 37, Ōpoa 98735, French Polynesia
You will get an exceptional view of the stunning lagoon from the Opera Beach Hotel. It features nine bungalows near the beach and a pool garden, giving you plenty of ways to relax.

10.) Havaiki Lodge Fakarava
Location: bp121 Fakarava, Rotoava 98763, French Polynesia
Set on a gorgeous stretch of sand just north of the main village of Fakarava, Rotoava, the Havaiki Lodge may be quaint, but it will steal your heart.

9.) Tikehau Fafarua Lodge
Location: Atoll de, French Polynesia
Tikehau Fafarua Lodge will become your home away from home. Located 30 from the airport by boat, it will be your escape from the everyday stresses of life and a place that you can truly let go of it all.

8.) Hotel Maitai Rangiroa
Location: Avatoru PF, Avatoru, French Polynesia
The Hotel Maitai Rangiroa is not only a top-class hotel, but it will also provide you with convenient access to two of the worlds best diving destinations the Tiputa and Avatoru Pass.

7.) Hotel Kia Ora Resort and Spa
Location: B.P. 198 – 98775 Avatoru, Rangiroa, French Polynesia
The Hotel Kia Ora Resort and Spa is a tropical paradise surrounded by a coconut plantation crystal blue waters.

6.) Le Rocher de Tahiti
Location: Faauanu Hitiaa O Te Ra Windward Islands
Le Rocher de Tahiti is by the ocean, so you'll have spectacular views during your stay. Nearby attractions include Faarumai Waterfalls, Pointe Venus Lighthouse, and Black Sand Beach.

5.) Vahine Island
Location: Motu Tu Vahine, Raiatea, Uturoa 98735, French Polynesia
Lose yourself the tranquil setting and magnificent white sands that surround the hotel. This resort is a location and accommodation that is so breathtaking that you'll be talking about it for many years.

4.) Hotel Tahiti Nui
Location: Ave Prince Hinoi, Papeete, Tahiti 98714
If you are looking for accommodation that offers spa facilities, an outdoor pool, and a fitness center, Hotel Tahiti Nui is for you.

3.) Hilton Moorea Lagoon Resort & Spa
Location: Bp 1005, Papetoai 98728, French Polynesia
Relax and unwind by the beautiful white sandy beaches or take a dip in the blue lagoon and cool off with the friendly local fishes. Whatever you choose to do, you'll enjoy your stay at the Hilton Moorea Lagoon Resort and Spa.

2.) Tahiti Pearl Beach Resort
Location: Lafayette Beach – Pk7, Arue, 98701 Papeete, French Polynesia
The Tahiti Pearl Beach Resort is alongside a stunning black sand beach and set amongst tropical gardens. It's the perfect Tahiti hotel to relax with an infinity pool, spa, and health club.

1.) InterContinental Tahiti Resort & Spa
Location: PK7, Fa'a'ā 98702, French Polynesia
The Intercontinental Tahiti Resort & Spa is located on a 32-acre peninsula, featuring modern lagoon view rooms and overwater bungalows with private terraces. Whether you chill by the pool or snorkel amount the 200 species fish, you'll have a relaxing stay here.
If you are lucky enough to visit this beautiful island, consider booking one of these best hotels in Tahiti.