Hong Kong Giving Away 500,000 Free Airline Tickets To Bring Back Tourists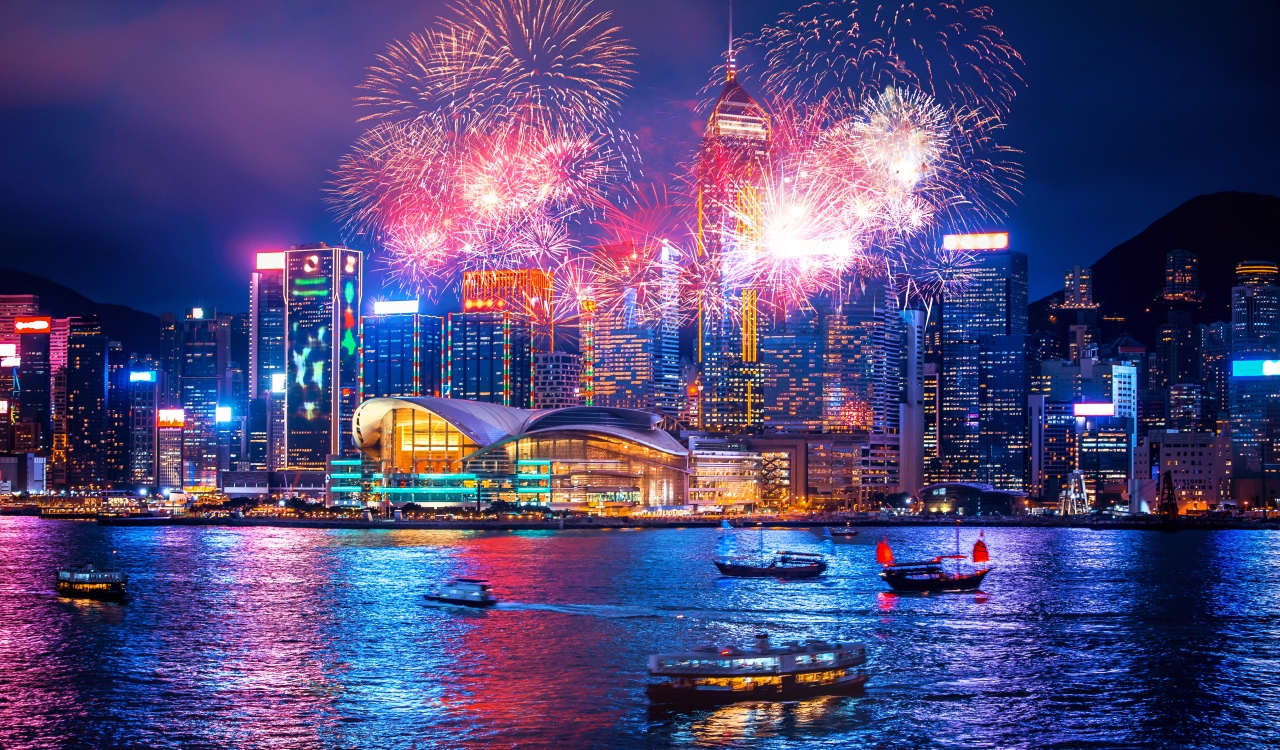 Whether you want to claim Hong Kong is part of China or still prefer referring to it as its own independent territory, one thing is clear. Tourism in the area has gone down in recent years. While tourism here took a huge dive in 2020 as it did for the rest of the world, the ongoing issues with HK and China have led to many tourists deciding against traveling here. Not only are there internal worries to consider, but traveling to Hong Kong is not exactly inexpensive.
If you were to buy one roundtrip ticket to Hong Kong right now as an American, let's say for the month of April, it'll cost you a minimum of $1200 for an Economy seat. Some are even going for over $2,000 depending on the airline you use. Naturally, that can make traveling to Hong Kong pretty pricey, as it is not accounting for the hotel price or anything like food or activities. Imagine paying these prices for a family of four. You'd spend roughly or over $6,000 just to get there.
Thankfully, the Hong Kong Government realizes this issue and has decided to fix its tourism industry by starting the Hello Hong Kong Initiative. This will see the government give away 500,000 free airline tickets to the city. Unveiled this past Thursday, the government claimed that this concept has been in the works for the last two years. Right now seems like the perfect time to try it out, especially as the COVID-19 Pandemic has started to become less threatening thanks to the vaccines.
How It Works
The Hong Kong Government will be using its three airlines for this: Cathay Pacific, HK Express, and Hongkong Airlines. In all, this venture will cost the city around $255 million, which is better than it could be considering the price of the tickets we just referenced. It pays to have your own airlines, eh?
If you want to take advantage of the opportunity to travel to Hong Kong for free, you'll just need to visit the World of Winners page. There you'll need to enter your name into the flight ticket lottery. However, this will be done in three different waves. Starting March 1st, people from Southeast Asia can access the World of Winners page to enter their names. Starting April 1st, people living in mainland China will be able to do so and finally by May 1st, anyone in the world can enter the flight lottery.
Locals can even take advantage of this too. Starting July 1st, some airline tickets will be given out to those in Hong Kong that are eager to leave the country to travel after being unable to leave for a while. While Hong Kong did not have as many COVID restrictions as China did, for instance, they did take it very seriously. On top of this, Hong Kong remained closed to ANYONE coming in for a long time. It was not until April 2022 that they allowed tourists to visit the city.
Things Are A Bit Different Now
It should be noted that Hong Kong is not the same as it once was. Therefore, if you have been here before, you'll come back to a very different city than the one you saw last time you visited. For instance, some major attractions such as the Jumbo Kingdom floating restaurant has been closed permanently. Meanwhile, the Peak Tram has gotten quite a makeover during the Pandemic period.
Hong Kong was one of the first places to begin taking the COVID Pandemic seriously. They began to cancel in-person events starting in January 2020 when the very first cases of COVID patients began showing up in Wuhan, China. At the time, this was not considered a new virus as most had flu-like symptoms. However, deaths started to happen in several places and Hong Kong shut down as a result.
Traveling in and out of Hong Kong then became incredibly difficult. During the Pandemic, the expense was insane. People were put under strict quarantine immediately, sometimes as long as 21 says. Several PCR tests were done on top of this. Hotels were the places where most travelers went, which the traveler had to pay for. If you tested positive for COVID on arrival, you'd be sent to a government facility.
All of these things kept people from traveling to Hong Kong unless they had no other choice. The changes since all of this beginning in April 2022 helped a lot but people still felt weird about going. That includes even Chinese tourists, which one would assume wouldn't fear the city as much considering mainland China's heavy restrictions.
Now that all of these things are out of the way, tourism can grow once more. Hopefully, they will see a huge jump in tourism revenue that will override the investment they made into buying these 500,000 airline tickets.