If You Love Snow, You'll Love The Snowiest Cities in the Country
Some cities in the United States experience more snow than others. Check out our list of the snowiest cities that you will love to visit during the winter.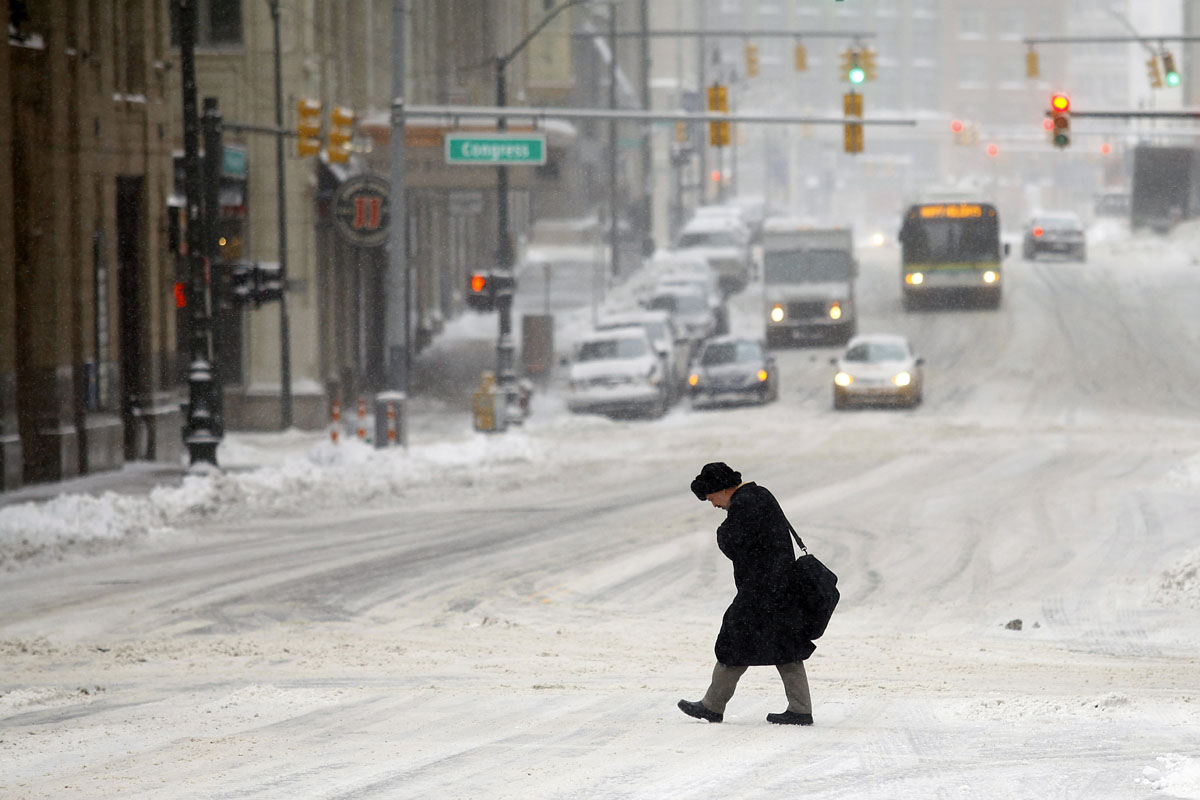 Snow is no surprise to many people in the northern cities of the U.S. While some may look on with sympathy, the people in these cities have learned how to enjoy life with the snow. Forbes has taken the average snowfall data over the past 30 years to determine the top snowiest cities in the country. And with these cities come some of the happiest people.
Here are the top snowiest cities in America.
15.) Detroit, MI
Average Snowfall: 44.1 inches
Winter begins for this city on Thanksgiving Day and it goes all the way to spring. The more snow they have, the merrier they are. In a state with 11,000 lakes, the residents live for winter and the ice rinks. It's the hockey players' getaway, and many residents cherish every inch of the snow that keeps their city in winter.
Detroit has dedicated dozens of parks to winter events, and each one brings the communities a bit closer and a lot happier. And it's all because of that cold, white stuff.
14.) Milwaukee, WI
Average Snowfall: 52.4 inches
Milwaukee is one of the snowiest cities and is a haven for romance with its huge County Clare fireplace and its horse and carriage rides downtown, as well as its ice skating at Red Arrow Park. It's also the center of attention for sports enthusiasts who enjoy sledding, tobogganing and cross-country skiing.
The social community is at its peak with all the snow and this is one city where a cold, red nose says you're happy.
13.) Denver, CO
Average Snowfall: 53.8 inches
Denver comes in next at 53.8 inches of snow, and it welcomes the white stuff because the people love to be out in it. Christmas is like a storybook tale with seasonal pavilions, choirs and outdoor concerts. You can also enjoy many candlelight walks and parades.
But Denver is known by the tourists for its ski slopes like Winter Park and for its many ski shops, and so the more it snows, the happier everyone is.
12.) Minneapolis, MN
Average Snowfall: 54.4 inches
You couldn't blame people for wishing it would last longer. This city takes advantage of every flake with its awesome hills for toboggan runs and ski trails, as well as its public skating rinks.
Minneapolis also offers a great romantic outdoor atmosphere with its winter stargazing, and it promotes lots of activities for youth including dating programs for those who love the outdoors. Technology has nothing on this city of snow lovers.
11.) Albany, NY
Average Snowfall: 59.1 inches
Even though Albany has about 59 inches of snow every year as one of the snowiest cities, that does not stop the residents from having some fun in the winter! The downtown is very lively, and the cost of living is much cheaper than most cities in the country.
In Albany, there are rows of century-old brownstones which makes for a beautiful scene every winter.
READ MORE: These Are The 50 Best Cities for Each State In Te USA
10.) Cheyenne, WY
Average Snowfall: 60.3 inches
Autumn usually starts the snowfall in this Wyoming city. The last snowfall usually happens as late as May. Residents of Cheyenne usually experience snow a third of their winter season.
Even though it snows a lot here, blizzards are not common.
9.) Portland, ME
Average Snowfall: 61.9 inches
The residents of Portland are always prepared for snowy and gross conditions because this is one of the snowiest cities. On a daily basis in the winter, they brave the low temperatures and the snowfall.
During the winter, people love to go snowshoeing along the trials. Cross-countries skiers are seen all throughout the city going from place to place.
8.) Worcester, MA
Average Snowfall: 64.1 inches
Massachusetts seems to get more snow than the rest of the country. Typically, snow starts to fall in October every year. Most of the snow accumulates in the months of January and February.
It usually completely covers the entire city with ten or more inches of snow.
7.) South Bend, IN
Average Snowfall: 66.7 inches
Over the entire winter, half of the days have at least of an inch of snow on the ground in this Indiana town.
Most of the snow happens during January. If a snowstorm comes around, it usually accumulates over five inches per day! Sometimes major blizzards drop at least ten inches of snow.
6.) Cleveland, OH
Average Snowfall: 68.1 inches
This city is a major tourist attraction for Ohio, especially in the winter, as it celebrates the snowy season with winter fests, ice skating, outdoor ice sculptures and a winter zoo and polar bears. The highlight is the Cleveland Indians' Progressive Field ballpark, which is transformed into a winter wonderland called Snow Days, featuring an ice rink and an eight-lane snow tube run.
This city really knows how to make the best of a cold situation, and it definitely is one of the snowiest cities!
5.) Grand Rapids, MI
Average Snowfall: 74.9 inches
The locals in Grand Rapids expect a gross and heavy winter every time it hits winter. Even though it snows a ton, there seems to be a wide variety of people here.
The area attracts college students and young families from around the state. Also, the job market and economy are healthy. It seems that people do not mind the snow too much, even though Grand Rapids is one of the snowiest cities.
4.) Boulder, CO
Average Snowfall:88.9 inches
Despite the snow, Boulder has been named one of the happiest places in the country. The snow gives Boulder that hipster scenery that you only see in pictures.
There is also plenty of breweries, trials, ski resorts and restaurants.
3.) Buffalo, NY
Average Snowfall: 94.7 inches
Buffalo has long and harsh winters. There are a lot of ski resorts that are an hour from downtown. There has been an increasing number of new businesses in the area, which has been linked to benefiting the local economy. Buffalo also has a love of their sports ranging from football to hockey.
You might have accidentally visited Buffalo if you went to the international tourist destination that is known as Niagara Falls. You might not even have thought about this popular destination as one of the snowiest cities!
2.) Erie, PA
Average Snowfall: 100.9 inches
This lovely city in Pennsylvania is constantly on the news for the amount of snow that they get every year. The officials in Erie have fully embraced the snow because they have many events in the winter.
Erie is surrounded by Lake Erie, so there are a lot of beaches and trails that locals and tourist can explore.
1.) Syracuse, NY
Average Snowfall: 123.8 inches
This city in upstate New York is at the top of our list for the snowiest city in the country. Even though it snows a lot here, Syracuse has more to offer than just snow and ice. It is known as one of the most affordable cities to live in, so it makes this location popular for families and young professionals.
If you love wine, Syracuse is close to wine country which is known as the Finger Lakes.
READ MORE: Top 50 Most Expensive American Cities to Live in, in 2018