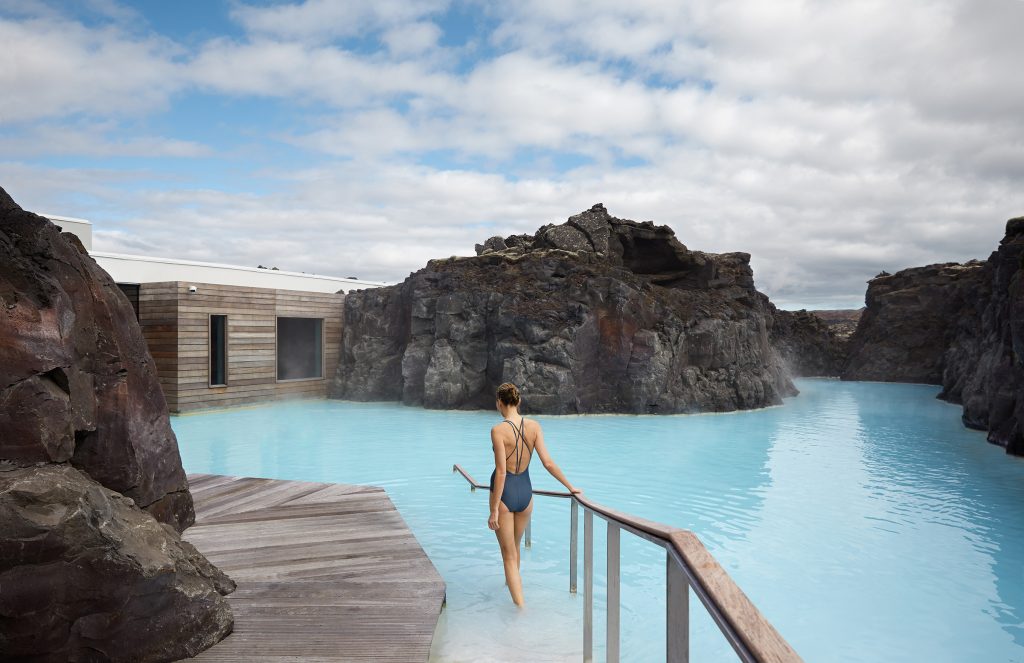 If you pick your vacation accommodation based on the hotel pool, you are going to love this list. We have searched far and wide to bring together some of the best, beautiful, and fantastic hotel pools from around the globe.
Here are the most stunning hotel pools in the world. 
30.) Altira Macau
This stunning hotel indoor pool is one of the top 10 best swimming pools in the world. It's not hard to see why with floor-to-ceiling windows overlooking the Macau Peninsula.
29.) Parkroyal on Pickering
This is the perfect infinity pool to relax and enjoy the spectacle views of Singapore.

28.) Reethi Rah Resort
This pick is an adults-only stunning lap pool that extends out into the beautiful blue lagoon.

27.) Marina Bay Sands

Located 57 floors up, this is the world's largest rooftop infinity pool offering a stunning view of the Singapore skyline.

26.) Alva Park Costa Brava
Location: Cost Brave, Spain
Get an exceptional view of Alva Park from this stunning hotel pool.

25.) Hotel Hacienda
Relax in this stunning hotel pool while taking in the breathtaking views of the ocean.

24.) Como Tirta Ening Estate
Location: Bali, Indonesia
Have a slice of paradise at the Tirta Ening Estate in Bali. Relax in a private infinity pool while taking in the surrounding tropical jungle.

23.) Evason Ma'In Hot Springs
A hidden gem located in Jorden, this stunning hotel pool has cascading hot spring waterfalls. You'll be able to relax and let go at Evason Ma'In Hot Springs.

22.) Hacienda Uayamon
Located in Mexico and housed within a stone enclosure, this stunning hotel pool is beautiful during the day but even more spectacular in the evening when lit up.

21.) Hanging Gardens Ubud
Names by TripAdvisor as the World's Best Swimming Pool, the pool at the Hanging Gardens is a must-visit destination. The stylish pool design and striking surroundings are so beautiful you won't want to leave.

20.) ION Luxury Adventure Hotel
The heated Lava Spa outdoor pool is in a beautiful Icelandic setting that will take your breath away.

19.) Royal Crescent Hotel
Location: Bath, United Kingdom
The Royal Crescent Hotel's pool is something to behold with its vaulted ceilings and flagstones floor. You should add this stunning pool to your must-visit list ASAP.

18.) LeCrans
This pool is a Swiss escape amongst the Alps. The indoor-outdoor pool offers an incredible view and a perfect atmosphere to relax and unwind.

17.) Huka Lodge
Just image dipping into a serene pool overlooking stunning views of New Zealand. Complete bliss.

16.) Phinda Homestead
Imagine a beautiful pool in South Africa surrounded by local wildlife. If you're extremely lucky, you may even encounter a family of elephants.
15.) Mandarin Oriental Barcelona
What better way to view the vibrant city of Barcelona than from a rooftop pool? The stunning hotel pool of the Mandarin Oriental offers views of both the La Sagrada Família and Casa Batlló.

14.) Pacuare Lodge
Immerse yourself in a tropical jungle paradise at Pacuare Lodge. Take a dip in this stunning hotel pool and enjoy the peace.

13.) Sublime Samana
Location: Dominican Republic
This beautiful and spacious pool is 500 feet long. It's fantastic for doing a few lengths and tasing your swimming game.

12.) The Grace Santorini
Location: Santorini, Greece
If you haven't heard of Santorini, where have you been? It's possibly the most Instagramable destination of the year! And it's not hard to see why with stunning infinity pools overlooking the Caldera like the on at The Grace.

11.) The Oberoi Udaivilas
This beautiful pool comes complete with sandstone column and elephant-shaped fountains. It's the perfect setting for an Indian vacation.

10.) Armani Hotel in Burj Khalifa
The Armani Hotel in Burj Khalifa is the world tallest tower with an outdoor swimming pool located on 76th floor.

9.) Hoshi Onsen
Experience a traditional Japanese hot bath in a stunning, warm, and welcoming setting. It's a great place to relax and unwind.

8.) Bill and Coo Suites
Location: Mykonos, Greece
Get a truly remarkable view of the Aegean Sea from the divine infinity pool. It's the perfect setting for a getaway or just a treat for yourself.

7.) Danubius Hotel Gellért
One of the most beautiful pools in Budapest, the Danubius Hotel Gellért is a hot spring pool rich in history, magnesium, calcium, fluoride, ions, and sodium. All of these minerals have health benefits for the skin.

6.) Eco Lodge, Mancora
Location: Mancora, Northern Peru
This stunning hotel pool comes complete with a diving board. Once you're done relaxing in the sun, you can take a plunge into the pool to cool off.

5.) Palazzo Matteotti
This unique pool is set behind beautiful frosted glass with a cave-like feel. The bubble walls give this stunning hotel pool in Milan a quirky and fun feel.

4.) Blue Lagoon Iceland
A stunning hotel pool that's more than it seems, the Blue Lagoon is a geothermal spa rich in minerals.
3.) Aqua Dome Langenfeld
The Aqua Dome is home to 12 pools like none other. With both indoor and outdoor pool options, there is something for everyone.

2.) Post Ranch Inn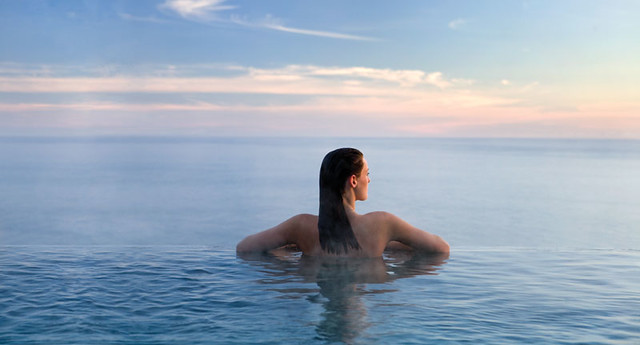 Location: Big Sur, California
Post Ranch Inn doesn't have just one beautiful heated infinity pool. It has three! You are spoiled for choice with stunning hotel pools.

1.) Vigilius Mountain Resort
Location: South Tyrol, Italy
The Vigilius Mountain Resort features an indoor, outdoor infinity pool with a scenic view of nearby larch trees and Dolomites in the distance.
Next time you are booking your vacation, consider visiting one of these stunning hotel pools.