The 4-1-1 On Maui's Road To Hana: How To Do It, What To Wear and What To See
A 55-mile drive along the hairpin turns of Highway 360, Maui's Road to Hana is filled with cascading waterfalls, tropical valleys, beach views, and more.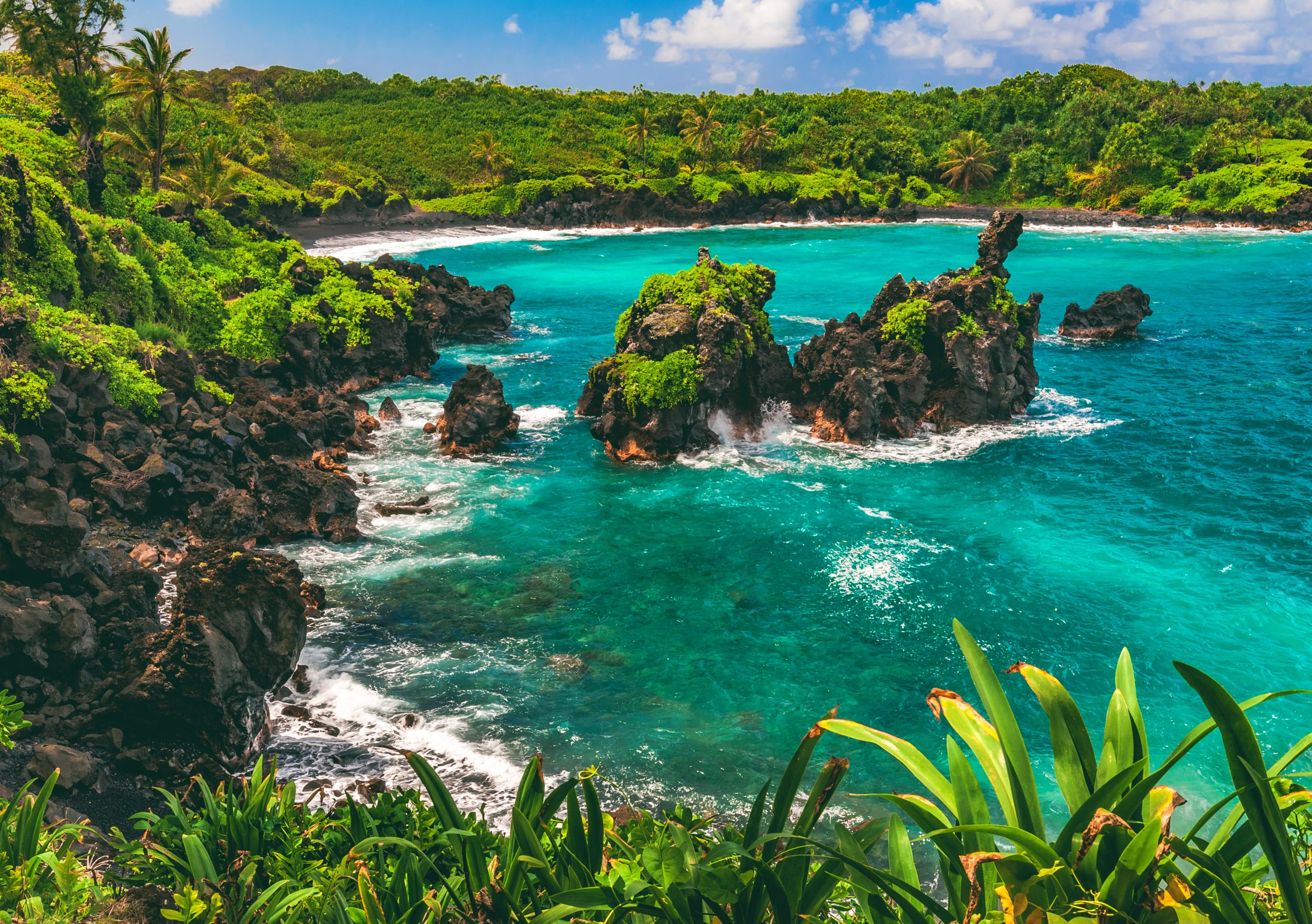 Maui no ka oi" means "Maui is supreme", and we couldn't agree more. This second-largest Hawaiian island, a picturesque tropical utopia, is an ideal US vacation destination for all – honeymooners, families, or groups of friends.
Whether it's golf, beach lounging, SCUBA diving, surfing, or deep-sea fishing, Maui offers countless activities. You can unwind on the beach, listening to waves, or take on hiking, biking, or fishing. The iconic Road to Hana is a must-see, with its scenic 55-mile drive along Highway 360, making it a haven for both adventurers and landscape lovers.
People typically self-drive the route, enjoying the freedom to stop anywhere. Car rental companies offer convertibles and jeeps, but we suggest a convertible for an open-air experience and the thrill of feeling the waterfall mist. Despite some rental companies promoting Jeeps for the sharp turns, a convertible does the job perfectly.
The Road to Hana, although only 55 miles, may take a day, thanks to the sights along the way – rainforests, valleys, waterfalls, and much more. An early start (around 9 AM) is recommended to avoid rush and to ensure you have ample daylight for sightseeing. Midway, there's a quaint roadside stand selling fresh banana bread – don't miss it!
On this journey, remember to pack a hat, sunglasses, and sunscreen, along with your bathing suit for waterfall dips. Water shoes like Keens may not be fashionable, but are useful for wading at various stops. Pack warm clothing for foggy areas that could get chilly.
Be prepared for the sharp turns if you have a sensitive stomach, and bring Dramamine. Now, let's discover:
The top five must-see stops along the Road to Hana:
5. Twin Falls (Mile Marker #2)
Twin Falls indeed holds a unique charm and offers a wonderful beginning to your journey on the Road to Hana. It's not just the magnificent falls that captivate visitors but also the trek to reach them. Nestled within the private Waiele Farm in the Ho'olawa Valley, Twin Falls is a place where two streams converge, symbolizing abundance and availability.
Ho'olaw, the Hawaiian term signifying "to provide, to share in abundance, to equip or make available so everyone has enough," is embodied here. Despite being privately owned, the land is generously open to the public free of charge, with the option for visitors to contribute donations.
As the first waterfall stop on the Hana Highway from the airport, Twin Falls is a sight you wouldn't want to miss. While the farm houses multiple waterfalls, the Twin Falls truly stand out as the prime attraction. We recommend dedicating ample time to hike the whole route, absorb the beauty of nature, and reward your efforts with a refreshing dip in the waterfall pools. This enchanting stop sets the tone for the amazing sights that the Road to Hana has in store for you.
4.) Wailua Falls (Mile Marker #45)
Wailua Falls is truly one of Maui's most iconic waterfalls. Its status as the island's most photographed waterfall is a testament to its awe-inspiring beauty. Nestled right alongside the road, the falls are a spectacle that you can't miss. The mist emanating from the cascading waters is sure to catch your attention even if you decide to drive past.
The falls majestically split into two streams, dropping an impressive 80 feet and creating a dazzling sight. At the base of the falls, a refreshing plunge pool awaits, enticing passersby to take a quick, invigorating dip.
What sets Wailua Falls apart is its accessibility. Unlike other falls that may require a hike, Wailua Falls is easily accessible as it is located right alongside the Road to Hana. You have the option of doing a slow drive-by to take in the view, but we highly recommend parking your vehicle, immersing yourself in the pool beneath the falls, and then continuing your journey. This stop is sure to enrich your Road to Hana experience with its breathtaking beauty and refreshing waters.
3.) 'Ohe'oGulch (Mile Marker #42)
The Kipahulu Area, also known as the Seven Sacred Pools or 'Ohe'o Gulch, is an indescribable gem of Haleakala National Park. It's true, the name may confuse you due to its many variations, but one thing everyone agrees on is its unparalleled beauty.
Situated about 15 minutes beyond the town of Hana near mile marker #42, this tropical haven presents a series of cascading pools and stunning waterfalls. While the moniker "Seven Sacred Pools" suggests there are only seven, the reality is there are many more. This discrepancy adds a charming quirk to its lore.
Prepare to devote a substantial part of your day when you visit this stop, and rest assured, every minute spent here is entirely worth it. You'll be captivated by the lush scenery, the rhythmic fall of water over rocks, and the tranquil pools, making your Road to Hana journey an unforgettable experience.
2.) Hana Bay Beach Park (Center of Hana Town)
As you near the end of the Road to Hana, there'sa chance you'll be 'waterfalled out.' Yes, it can happen … and when it does, the solution is a walk on the beach (and more beautiful scenery).
When you reach the crescent-shaped black sand beach of Hana Bay Beach Park, you'll know you've made it to the end. Welcome to Hana! And there's no better way to celebrate than parking your car, stretching your legs, and walking barefoot across the warm rocks and black sand. Depending on the current, you may see snorkelers, local children splashing in the water, and sun-seekers laying out and taking in the rays. Often times you'll also be fortunate enough to hear some local musicians strum a few tunes on their ukuleles. It truly is the perfect way to end your trip along the Road to Hana, and often a great place to watch as the sun sets.
1.) Wai'anapanapa State Park (Mile Marker #32)
Translating to "glistening water," Wai'anapanapa features warm black sand beaches set against turquoise waters and against a tropical green backdrop, ocean caves, blowholes, cliff jumping, beautiful views of the East Maui coast, and so much more. What could be better?
If you don't feel like trekking back down the Road to Hana where you started, stay! Campsites and cabins are available.
Love waterfalls? Check out a few of our favorite waterfalls in the world!
Have you driven The Road to Hana? Tell us what your favorite stops were!