The Largest Plane In The World Managed To Stay In Flight For Six Hours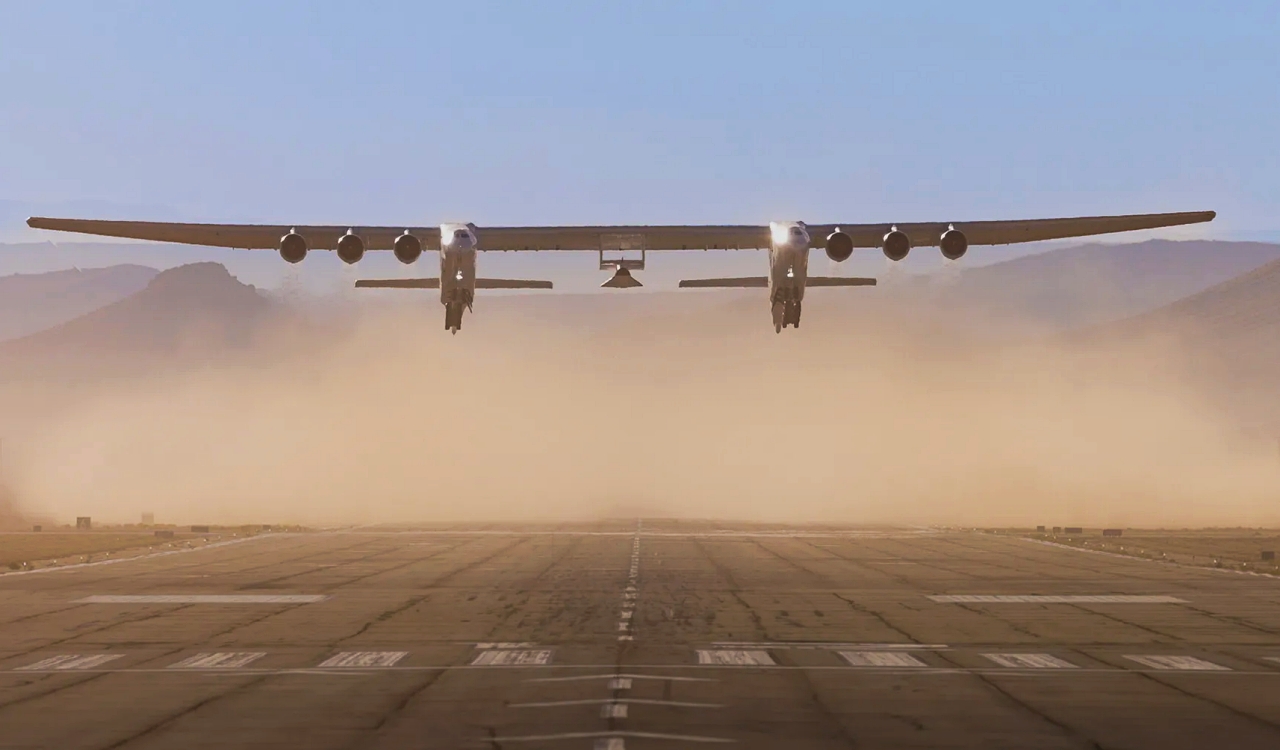 Usually, when we discuss the idea of an aircraft staying in the air for several hours, it's nothing to write home about. However, when a plane is massive, just getting it off the ground can be tough enough. Managing to keep the aircraft actually in the air can be even tougher. This is why the recent achievement by Stratolaunch Systems is so incredible. The Stratolaunch Roc, which was developed by Microsoft co-founder Paul Allen and manufactured by the U.S. aerospace company Stratolaunch Systems, only went on its ninth flight recently.
This plane is truly enormous, measuring roughly 239 feet in length and 50 feet in height. It is literally larger than two football fields in length. It is the largest plane ever constructed, which means a lot needed to be put into making it. This is a composite aircraft, made out of carbon fiber from two deconstructed Boeing 747-400 jumbo jets once flown by United Airlines.
The design of the plane, in spite of its size, is that it will both take off and land using an airport runway. Other hypersonic planes do not try such a thing. Of course, this plane will need a runway around 12,000 feet long, but the fact it can land and take off from one is very promising. Some might wonder…why would anyone want to make a plane that is so large?
Why The Stratolaunch Roc Was Made
The idea for this plane is that it will carry air-launch-to-orbit rockets and hypersonic vehicles. The plane can carry up to three rockets as of this writing, which is pretty impressive. It is likely that rockets will eventually get smaller and the plane be able to carry more. With that said, most assume that a rocket would normally launch from the ground, which is usually the case. However, many feel that if you can take a rocket closer to orbit…you'll save on a lot of extra expense that take-off causes.
By cutting the cost of take-offs, places like NASA among others could use planes like the Stratolaunch Roc to take their rockets close to orbit for a fraction of the cost they pay to launch rockets. On top of this, you also remove potential issues with rockets not being able to make it into orbit or explosion issues often caused by the launch itself. In theory, the Stratolaunch Roc can help save billions of dollars for space companies and federal administrations.
The plane is able to carry a payload of up to 500,000 pounds as of this writing, but there is a likelihood that this will improve too. Yet none of this could ever occur if the Roc could not work like we'd all need it to.
Thankfully, progress has been huge. In just its ninth flight, it stayed in the air for 6 hours. All of the flights had taken place in the Mojave Desert, likely due to wanting to avoid populated areas should a problem occur. However, this flight was special because it was the first time the plane flew outside of the Mojave range. It departed out of the Mojave Air & Space Port and flew for six hours across southeastern California. During that time, it reached an altitude of 22,500 feet.
This success has sparked huge new moves for the Stratolaunch Systems team. CEO Zachary Krevor claimed the company is planning to have its first hypersonic flight and a "separation test" of the Talon-A vehicle within the next few months of this year. Krevor claimed that their plane is "closer than ever" to its first hypersonic flight. Which pretty much tells us that we could see it take place by or just after the summer.