Top Paris Coffee Shops To Grab a Drink (and Instagram)
So you want to enjoy coffee and look good while doing it? Check out these 5 Paris coffee shops that are Instagram-worthy!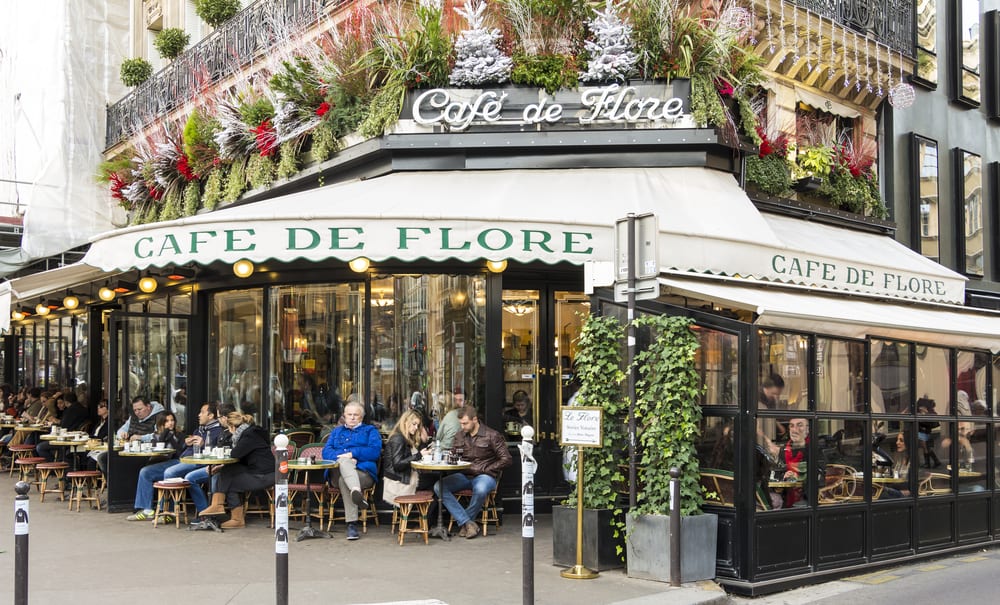 Visiting Paris without relaxing at a Parisian cafe would be a crime, wouldn't it? I mean, the word "cafe" is a borrowed word from the French, so they obviously know what they're doing when it comes to coffee shops. With the amount of history and culture surrounding Paris coffee shops, it can be hard to decide on which ones to put on your list.
Luckily, cute coffee shops are popping up all around Paris, so you can get your caffeine fix while roaming the streets of the City of Lights. If you're looking to spice up your Paris travel photos from the mundane Eiffel Tower pics, check out some of these aesthetically pleasing cafes in Paris. But before you head out, here is a quick crash course on how to order a coffeein French.
Ordering coffee in Paris
Café is a small cup of espresso with nothing else added.
Café au lait translates to coffee with steamed milk and is commonly drunk in the morning along with a croissant.
Un café Américain is American-styled filtered coffee or in some places, strong espresso and hot water.
Un café noisette is similar to a cortado, but is made with espresso and a dash of cream or hot milk. It's called noisette (hazelnut) because of its dark hazelnut-y color.
If you go to a classic Parisian cafe, then you can expect these drinks to be available. If the third-wave specialty coffee shops are more your style, then go ahead and enjoy your Flat White.
Now that you know the basics of ordering coffee in Paris, check out this guide for finding Instagram-worthy caffeine fix.
5.) La Maison Rose
Our first cafe is nestled in the heart of Montmartre, the charming hilltop village that attracts both locals and travelers alike. Montmartre is a historical borough known for being the famous artists playground of the 19th century. At Paris coffee shops like La Maison Rose, the artsy vibes live on and attract people from all over the city.
La Maison Rose is hard to miss, as the bright pink cafe is conveniently located on the corner of rue de Salves and Abreuvoir. The charming colors and the surrounding architecture make it a perfect backdrop for a cool Instagram shot.
While you won't be able to resist the urge to Instagram the cute pink walls and ivy lined streets, don't forget to sit down fora delicious café au lait and a crepe at this cute cafe.
Address: 2 Rue de l'Abreuvoir, 75018 
4.) Boot Cafe
This Paris coffee shop may be small in size (there are only two tables), but its delicious coffee and its chic decor will make it worth the trip. Boot Cafe is located in the 3rd arrondissement (district), in Le Marais, a multicultural hub in Paris.
Similarly to Le Maison Rose, Boot Cafe stands out with its colorful decoration that can be noticed from the street. While strolling along the Rue du Pont aux Choux, you'll notice a blue door with the sign Cordonnerie. Inside you'll find minimalist-meets-grunge art decor with independent art magazines and postcards along the walls offering plenty of Instagram opportunities. Don't plan on staying too long at the Boot Cafe, though. While the baristas are known for being friendly, the message on the door makes it clear you can't linger here like many Paris coffee shops. It reads: "This coffee was made for walking" … and that's just what you'll do.
Address: 19 Rue du Pont aux Choux, 75003 
3.) Fragments
Discreet entrance, exposed brick walls, art and a quality caffeine fix are what you'll get when you visit Fragments. Fragments is a specialty coffee shop in the Le Marais/Bastille area that is dedicated to serving up some of the world's best coffee to the city of Paris.
If you're a bit more particular about coffee, you'll find coffee beans from countries like Kenya and Guatemala, and a variety of ways to prepare it. Cravinga fancy cup of Aeropress or a perfect flat white? Fragments is coffee-buff heaven.
While sipping the perfectly brewed coffee and snapping photos for the 'gram, be sure to order from Fragments' food menu, which offers tons of meals made with freshly farmed fruits and vegetables.
Address: 76 Rue de Tournelles, 75003
2.) Ob-La-Di
Don't be surprised if you see a swarm of people posing with their coffee at Ob-La-Di, a coffee shop inspired by the Beatles song of the same name. Another Le Marais gem, you'll find tons of photo inspiration in this tiny Paris coffee shop. Instagram enthusiasts frequent this cafe for its trendy coffee and even trendier eats. That's right, you can enjoy the guest-favorite avocado toast while sipping on a latte at this cute cafe.
Figuring out where to snap a photo may be proof a challenge, since from the cool latte art to the marble countertops and the aesthetically pleasing bar, the inspiration is everywhere. Stop by for breakfast on your way through the Le Marais and get ready to snap away.
Address:54 Rue de Saintonge, 75003 
1.) Cafe de Flore
It would be a crime to skip out on experiencing a café au lait at one of Paris's oldest coffeehouses. At Cafe de Flore, you can enjoy coffee where some of Paris' most famous writers and philosophers did, and the classic Parisian decor will make it easy to capture it. The cafe is perfectly located on a corner of Boulevard St-Germain with luscious greenery spilling over the top and a classic colorful terrace.
De Flore merges history with the quintessential Parisian cafe and looks good while doing it. Visiting Cafe de Flore kills two birds with one stone: You're experiencing a little bit of Paris history, and you're getting the perfect frame for your next picture for the 'gram.
Address: 172 Boulevard Saint-Germain, 75006