Tropical Storm Hilary Leading To Flight Cancellations, Park Closures, And More
Tropical Storm Hilary is going to be hitting Southern California pretty hard, causing several flight cancelations, park closures, and more!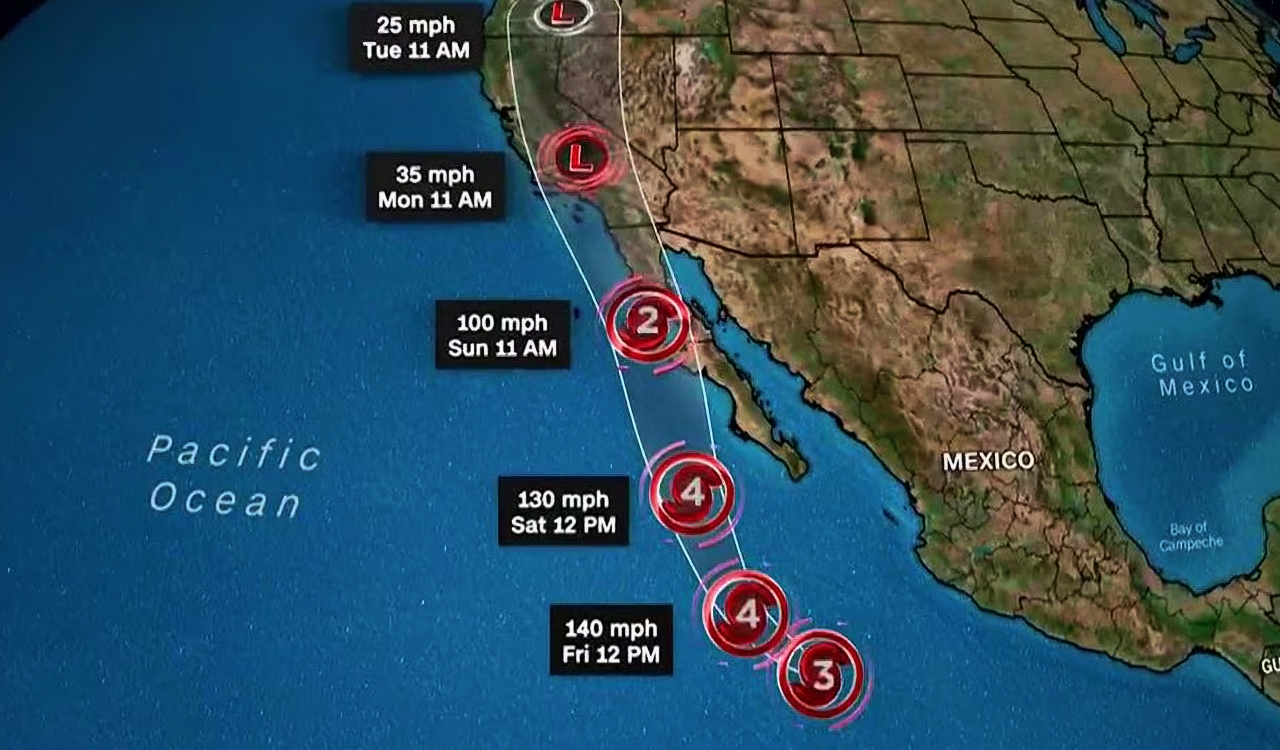 Tropical Storm Hilary is expected to make landfall today in various areas of Southern California along with Mexico's Baja California territory. While Baja California will be seeing flash flood warnings very soon if they have not already, other areas of California will be impacted. Shortly before noon Pacific time, emergency alerts were sent out to those in the Los Angeles area which read:
"Do not attempt to travel unless you are fleeing an area subject to flooding or under an evacuation order."
LA is not the only place that could be impacted. In fact, portions of Imperial, Kern, San Diego, and Ventura Counties will be impacted along with portions of Los Angeles County. The current issue that California seems to be facing is the issue around travel. Several flight cancellations and delays at airports have been taking place across the state, especially when it comes to Southwest flights.
Hollywood Burbank Airport has already warned people about the issues on its website. They wrote:
"Check with your airline for updates on any delays or cancellations because of the storm before you come to BUR. Make sure you allow extra time to get in and out of the airport."
Many roads are also being impacted by this too, along with some of Southern California's notable destinations. Several of those already closed on Sunday to get ahead of the storm. This is currently what we know when it comes to flight cancellations, delays for things, road closures, etc.
Flight Problems
FlightAware has been tracking flight statuses in real-time and has currently reported that more than 700 planned flights scheduled for Sunday and nearly 200 flights scheduled for Monday have been canceled by Southwest Airlines. This is a big deal, as Southwest is by far California's largest carrier of passengers in and out of California.
Southwest sent a statement to USA Today that reads:
"As California's largest carrier, we've made proactive adjustments to our flight schedule throughout the weekend and have communicated with affected customers, sharing details of our travel advisory that allows additional flexibility to self-serve rebooking on Southwest.com. We will continue to share updates as the storm progresses and we stand ready to assist and accommodate them during and following the storm."
Travel Waivers are being issued for customers that were initially scheduled to fly into, through, or out of California. So far, these are the airports that are issuing the waivers for Southwest flights:
Burbank (BUR)
Las Vegas (LAS)
Long Beach (LGB)
Los Angeles (LAX)
Ontario, California (ONT)
Orange County (SNA)
Palm Springs (PSP)
San Diego (SAN)
Santa Barbara (SBA)
Customers will be able to rebook or fly standby between their originally booked cities sometime within 14 days of their original travel dates. They'll also be able to do this without having to pay any extra charges.
Southwest has also claimed their customers with Sunday or Monday flights booked into, out of, or through any Los Angeles area airports can also switch to another airport in the area without having to pay any fees to do so. Those eligible to do so include Burbank, Long Beach, Los Angeles, Ontario, Orange County, and Santa Barbara.
As we speak, Alaska Airlines, American Airlines, Delta Airlines, Frontier Airlines, Hawaiian Airlines, Spirit Airlines, United Airlines, & JetBlue Airways are seeing far fewer cancellations for their flights. They are also offering travel waivers for those flights that needed to be canceled thanks to Tropical Storm Hilary too.
Ratio Of Flight Cancellations So Far
FlightAware is reporting upwards of a fifth of all flights at California airports have canceled Sunday flights. This is quite a lot, and that report is pretty fresh as of this writing. The current ratio, which could very well change, looks like this:
Hollywood Burbank Airport: 40% out-bound, 39% in-bound flights canceled
John Wayne Airport: 20% out-bound, 21% in-bound flights canceled
Long Beach Airport: 32% out-bound, 42% in-bound flights canceled
Los Angeles International Airport: 3% out-bound, 4% in-bound flights canceled
Oakland International Airport: 17% out-bound, 18% in-bound flights canceled
Ontario International Airport: 31% out-bound, 37% in-bound flights canceled
Palm Springs International Airport: 46% out-bound, 41% in-bound flights canceled
Sacramento International Airport: 23% out-bound, 18% in-bound flights canceled
San Diego International Airport: 37% out-bound, 41% in-bound flights canceled
San Francisco International Airport: 37% out-bound, 41% in-bound flights canceled
San Jose Mineta International Airport: 17% out-bound, 14% in-bound flights canceled
In addition to all of these flights being canceled, it is being reported that 20% of the flights in and out of Harry Reid International Airport have been canceled for today. Along with that, around 10% of flights in and out of Phoenix Sky Harbor International Airport were canceled for Sunday too.
One can rebook their flight in situations like this for no extra fees with their airline. However, sometimes this might be an issue and make traveling by air unnecessary for some people. In these cases, you do not need to rebook the flight but can request a full refund. You are entitled to receive this according to the rules laid out by the U.S. Department of Transportation. This much is true even for flights that might normally be considered nonrefundable.
Park Closures
Several of California's notable parks and theme parks will be closed or monitoring Tropical Storm Hilary very closely. Several of these areas are stressing to guests and employees that their safety is paramount. As a result, many have closed entirely, partially closed, or closed early on Sunday. This could very well extend into Monday for many, depending on the weather.
This is the current information on the national parks so far:
As for the theme parks, this is their status:
Other major venue statuses:
Is "Hilary" A Tropical Storm Or Hurricane?
There have been many questions surrounding whether or not "Hilary" is considered a hurricane or tropical storm. So far, you've likely seen both used to describe this weather event. As a result, it has been tough to understand if Hilary should be treated as something severe or if we should simply worry about flooding more than anything else. While this is not something that should be taken lightly by any means, flooding only compared to high winds and much more on top of that is preferable.
However, while flooding potential is problematic, it seems that this storm is breaking records as it has made landfall. Hilary was downgraded from a hurricane to a tropical storm recently, but this "downgrade" does not mean the tropical storm is not powerful. It very well could start up tornadoes if conditions are right. On top of that, the storm is also bringing some high winds along with lighting that can always be a threat to life.
Yet what seems to be constant as of now is the historic flooding it is causing.
This tropical storm seems to be bringing so much rainfall compared to the norm. It was so bad in the Mexican town of Santa Rosalia that at least one person drowned on Saturday. Forecasters are saying that this storm is bringing "life-threatening" flooding in areas not known for much rainfall, along with strong winds that could knock down trees and power lines.
California's Governor, Gavin Newsom, declared a state of emergency on Saturday before Hilary made landfall in California.
What might make some Californians fearful of Tropical Storm Hilary is that, well, this is the first tropical storm to hit Southern California in at least 84 years. That is a pretty big deal for the region.
If Southern California did not have enough to worry about, a magnitude-5.1 earthquake hit the area this afternoon, coming several miles southeast of Ojai. While there was no significant damage from the earthquake, it seems that this region is seeing Old Testament levels of torture from the weather right now.