Top 5 Wine-Tasting Destinations
Want to more about wine? Here are the top five US best wine tasting destinations you'll want to add to your must-visit list.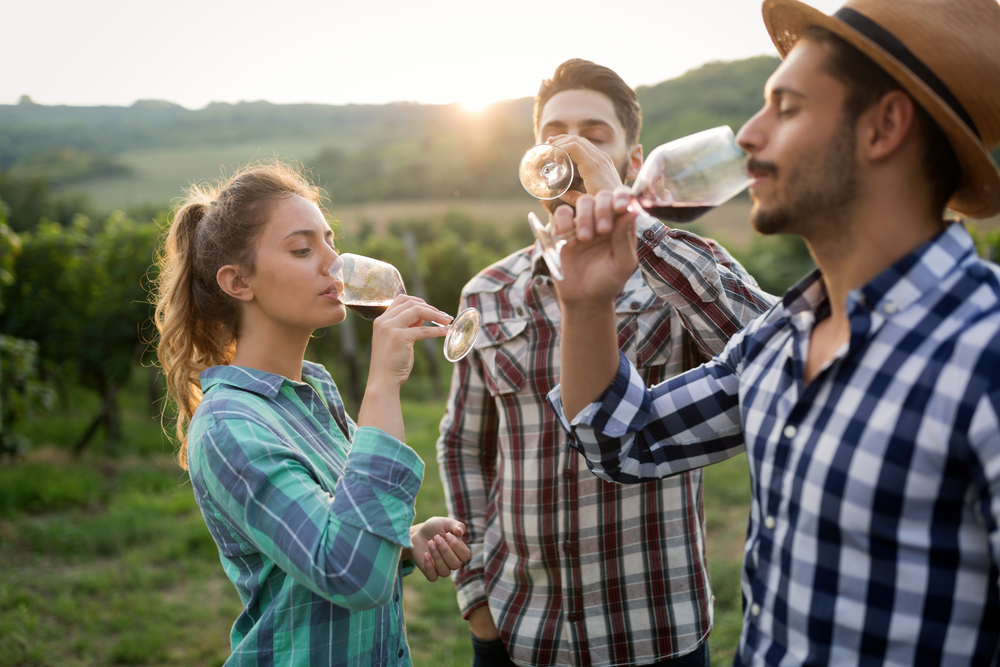 Unless you are a wine expert, there is a strong possibility that you don't know how to distinguish the difference between the various wine flavors. However, this is a skill that can be leaned and this can be done at a wine tasting.
Why Attend a Wine Tasting
If you love wine, you'll love attending a wine tasting event. 
Wine tasting is a great way to experience and learn everything you need to know about wine. Attending a wine tasting will broaden your horizons. During the experience, you'll get to taste wines that you may not have come across otherwise. You get to discuss with the wine experts and those with at the event about the different flavors you can taste and learn which is the best wine for you.
Wine tasting is an education. Wine is so much more than what is written on the label.  A tasting event will use and awaken all of your senses. Taste, smell and see the variety of different wines available.
There are many great reasons to attend a wine tasting, the main one being you get to sample a selection of different wines. Here are a few more reasons why to participate in a wine tasting.
You love wine:

immerse yourself in all things wine. Learn how it is made, smell it, look at it and best of all taste it. 

Meet people with a common interest: meet and interact with other people that have a love and passion for wine. Make new friends and get to know more about each other over a glass or two of wine.
Gain more knowledge about wine: learn and experience about the different flavors, aromas and textures of wine.
Learn how to pair food with wine: learn which wine is the best to pair with which food to compliment the flavors and textures.
To add a bottle or two to your wine collection: that's right not only do you get to learn everything you need to know about wine but you can use your new knowledge to buy yourself the perfect bottle that's right for your taste.
Enjoy yourself: this is the most important part of wine tasting and that is it's an enjoyable experience and you'll have fun.
Another thing to note is that you'll be able to impress your friends with your new knowledge.
What to Expect at a Wine Tasting
At a wine tasting, you can expect to meet and mingle with other wine enthusiasts. All of whom are there for the same reason: to sample wines and enjoy their tastes, fragrances, and textures.
A range of wines will be offered for your palate's pleasure, with even the most basic of wines putting the boxed stuff in your refrigerator to shame.
The social atmosphere found at all wine tastings will encourage you to interact with your fellow tasters, and perhaps learn a thing or two.
Here are the top US best wine tasting destinations you'll want to add to your "to indulge" list.
5.)

Long Island, New York

Take a day trip out of New York City and head to Long Island's little-known secret: a collection of nearly 60 small vineyards. Spread around Long Island, these vineyards provide many different wines to taste at over 30 wineries.

Sample cabernet franc, chardonnay, pinot noir, pinot grigio and merlot, just to name a few. In addition to wine tasting, check out the wineries' local events, which include themed festivals, art shows and even live music.
4

.)

Finger Lakes, New York

Take a break from the hustle and bustle of New York City by grabbing a glass of wine at Finger Lakes. Which is located in the western central section of New York state.

Take your pick of over 100 wineries or three special wine trails. All of the wineries at Finger Lakes offer a broad selection of sweet and dry wines. As well as pinot noir, chardonnay and other classics.

Expert wine tasters host many wine tours and offer complimentary food pairings for the ultimate wine-tasting experience.
3

.)

 Willamette Valley, Oregon

Hit the trails, but leave your covered wagon at home. Oregon's Willamette Valley offers a range of hospitality choices, from B&Bs nestled in the countryside to sleek, urban hotels.

Its wineries specialize in pinot noir, but you'll also discover cabernet, zinfandel, merlot and Riesling, just to name a few. Multiple wineries located from Portland all the way down to Eugene ensure plenty of wine tasting and fine dining enjoyment from north to south.

And when you're not touring wineries, you won't want to miss out on art galleries, and the chance to explore the countryside with pedal bike tours and hot air balloon rides.
2.)

Napa Valley, California

Both TripAdvisor and U.S. News selected California's Napa Valley for the No. 2 spot of must-visit best wine tasting destinations. Clearly, the place is doing something right.

Napa Valley's wineries are home to a generous selection of wines. Most notably chardonnay and pinot noir. Besides boasting more than 400 wineries, Napa Valley is your destination if you have a love of fine dining.

And for those who aren't going to go winery-hopping, Napa Valley also has plenty of spas, golf courses and even hot air balloon rides to offer.
1.)

Sonoma County, California

California's Sonoma County, located close to Napa, is a must-visit if you'll be on the west coast, as its wineries offer a wine for every occasion and palate.

From a crisp chardonnay to light zinfandel to a heady merlot, Sonoma County offers a large selection of wines that are best enjoyed when followed by a visit to one of many nearby spas.

Sonoma County's Kendall-Jackson Wine Estates, in particular, is worth a visit, as it boasts 120 acres of vineyards that are home to a culinary sensory garden, food and wine pairings with Chef Justin Wangler and a dedicated tasting room.

Now that you know the top 5 best wine tasting destinations, you can plan a trip with friends and enjoy a lovely weekend away in wine county. Which best wine tasting destination will you choose?