Winter Storms Rage In The United States, Causing Major Travel Issues Nationwide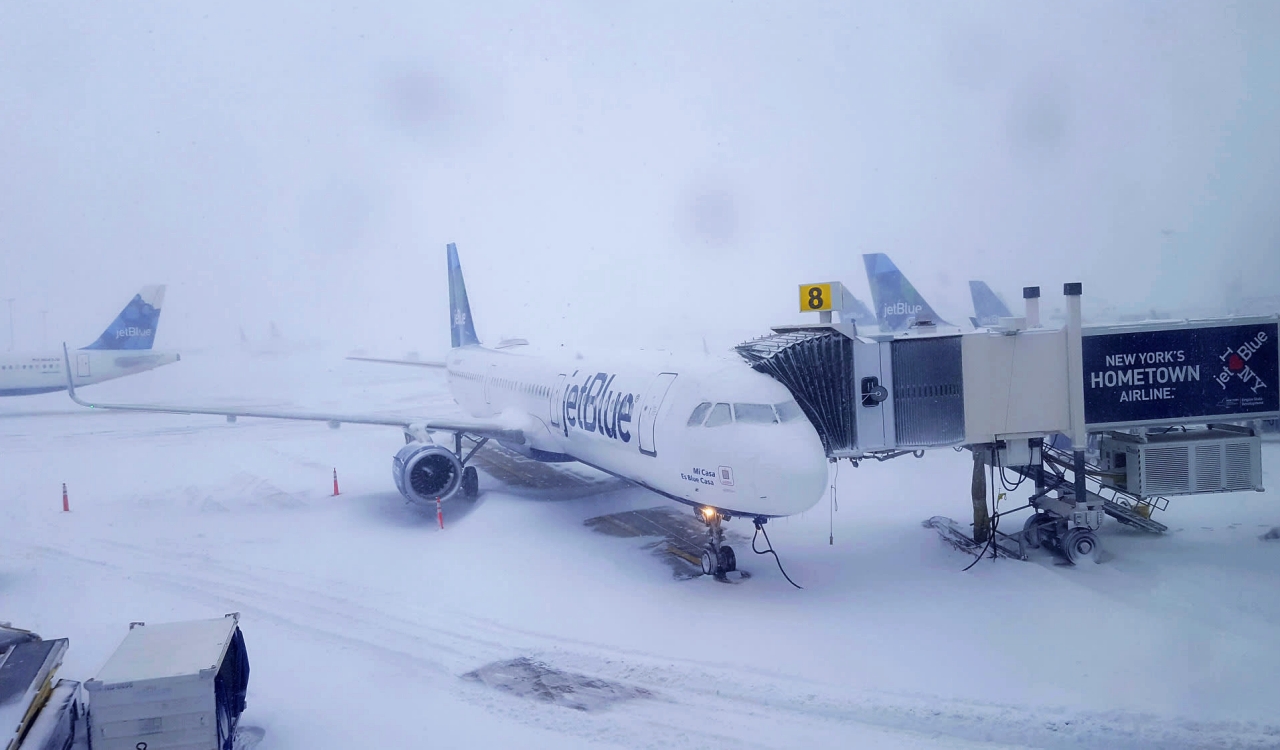 This holiday season has been met with a lot of winter storm issues, as these storms have been causing numerous problems in the United States. This past week, the East Coast of the country saw winter weather conditions that caused some travel issues. Once Winter Storm Elliot made its way into the country, conditions that were usually relatively cold only became even colder.
As of Christmas Eve, at least 700,000 people were without power in frigid temperatures. This was accompanied by 34 deaths across the nation.
Millions are now having to hunker down to withstand the deep freeze through Christmas and into the start of the week. Some residents in the country are actually trapped inside their homes with snow drifts bringing a ton of snow and knocking out power to thousands of homes. This makes it tough to handle the freezing temperatures inside the home and impossible to leave to reach better conditions. As of Christmas morning, some were found sadly deceased inside their homes due to this.
Roughly 60% of the country has faced some sort of winter weather advisory this week. This stretches from the Great Lakes near Canada all the way to the Rio Grande along the border of Mexico. The scope of these conditions has been nearly unprecedented, making it tough for several states to handle, considering many are not conditioned for this type of weather. Yet things get worse, as travel conditions have caused many to be trapped.
Traveling Is Going To Be Tough For A Bit
Several flights have already been canceled by airlines as a result of winter weather problems. A bomb cyclone actually caused some of these cancellations. This is when atmospheric pressure drops quickly in a strong storm. One developed near the Great Lakes, which started up blizzard conditions that included heavy winds and snowfall.
Around 3,000 flights were canceled on Christmas Eve due to the storm. At least 2,000 domestic and international flights were canceled on Christmas Day, with more expected. Upwards of 6,000 flights have been delayed coming into or leaving the United States as well.
Winter Storm Elliot hit the country incredibly hard with Buffalo, New York recently experiencing some horrible conditions. Hurricane-force winds (upwards of 50 mph) accompanied snow, which only caused whiteout conditions. This only made emergency response efforts nearly impossible for those that needed it. New York Governor Kathy Hochul claimed that almost every firetruck in the city was stranded as of Christmas Eve and told people to stay home. The state has issued a driving ban, and hopes people obey it.
The New York airports will be shut down until at least Tuesday morning. According to the National Weather Service, the snow total at the Buffalo Niagara International Airport alone stood at 43 inches as of Christmas morning. Yet New York is only one state that has experienced severe problems due to the storm. Elliot has been followed by both NASA and NOAA through satellite surveillance, and they were able to track the path of this polar vortex just ahead of Christmas. They found that it had the potential to go from coast to coast, causing issues nationwide.
That belief seems to have been correct.
Nationwide Travel Problems
Winter Storm Elliot has caused problems all over the country when it comes to nearly all forms of travel. Three people were killed in vehicle accidents caused by icy roads in Oklahoma, and more than 1.5 million customers are without power as of early Christmas day. Other fatal car accidents were confirmed in other states as well, such as Nebraska, Kentucky, and Kansas as of Friday. While power has been restored for many as of Christmas evening, it was sadly too late for some.
When tracking the storm, NOAA and NASA found that Elliot was making its way from Canada into the United States and heading South. While it would gradually be less severe as it hits the southern states, winter conditions were at record levels for many states. Some states such as Alabama saw temperatures over the weekend that have not been as low in roughly a decade at this point in the year. In some states, temperatures have fallen below 40 degrees while even those further south are in single-digit weather conditions.
There is a potential for several bomb cyclone issues as Elliot would only turn into this if warmer weather meets it along its path. If the storm is still remaining powerful, this could cause several problems for the southern United States. It'll also cause travel issues here that could turn just as severe as what we're seeing in the Northeast.
Several sadly passed in both their homes and cars due to the horrible winter weather that made driving nearly impossible in some places. Several shelters have been open to the public, where both food and heat were present. Some actually had to walk quite a distance in the storm, risking their lives in doing so. Yet they knew that they could not drive in the weather and staying in the vehicle was not an option, so they braved a walk. Distances vary, but some were said to have walked for nearly a mile.
The storm brought with it almost a blanket winter weather warning for the country. Due to the winds, snowfall, and other dangers, the winter weather warnings and advisories are among the highest in history for the country.