Thailand Travel Guide: Best Restaurants in Bangkok For Those Not On A Budget
From the charming interior and fiery shared plates of Bo.Lan to the gastronomic explosion that is Gaggan, here's everything you need to know about the best restaurants in Bangkok.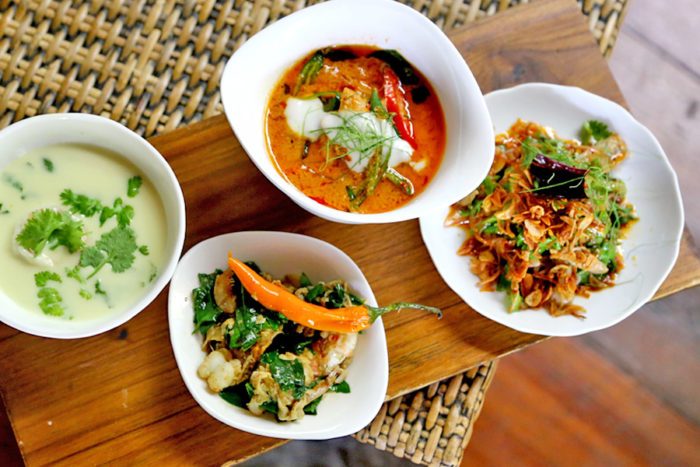 With its vibrant capital, mazes of jungles and awe-inspiring islands, Thailand never fails to delight the senses. Its food is no exception and, with the Michelin guide debuting in Bangkok for the first time this year, there is no better time to explore some of the best restaurants and prix-fixe options in Bangkok.
Bangkok serves up an eclectic mix of street foods and Michelin-starred restaurants, all at a fraction of what you would pay in cities like London and Paris, all without compromising quality. While we will never pass up mango sticky rice along Soi 38, there is no better time to splurge one night and have something transformative.
Cassie Leventhal, a New York City-based fashion executive, considers Thailand to be her second home. She can often be found in Bangkok, and while she's there, enjoys sampling the latest and greatest of the city's cuisine. We got her take on the best restaurants in Bangkok.
"Bangkok is known worldwide for its eclectic array of street food, but its fine dining scene has been slowly percolating since 2010," she said. "I'm excited to share a few of my favorite with you."
Best Fine Dining Restaurants in Bangkok:
5.) Bo.Lan 
Husband and wife team Dylan 'Lan' Jones and Duangporn 'Bo' Songvisava (voted Asia's Best Female Chef in 2013) bring traditional Thai cuisine to Bo.Lan. Drawing influence from a mix of spicy street food, home-cooking, and palace-style cuisine the two bring fine cuisine to Bangkok.
The chefs use only locally sourced, organic products, and strive to maintain a zero carbon footprint kitchen. Doing so entails a vegetable garden, an elaborate waste-recycling system, as well as a water-filtering system.
Dinner is only served in set menus, sharing style, with the option to choose from three degustation menus. The plates are "course-prohibited", meaning all dishes are served at the same time as opposed to by course. Favorites include Stir-fried Prawns with Paddy Oat Leaves, Red Curry of Phang Nga Chicken with Young Jackfruit, and Salad of Phang Nga Chicken.
Ms. Leventhal counts it on her list of best restaurants in Bangkok and suggests getting an 8:00 PM reservation so you can first enjoy the sunset. "Bar Octave is located just down the street and has the most charming rooftop bar. Start there, savor in a happy hour sunset, and then make your way to Bo.Lan," she says.
Price range: 200-800 BHT+ ($6 – $25)
Location:  24 Soi Sukhumvit 53, Vadhana, Bangkok
Phone number: +66 2 260 2961
4.) Saawaan
Saawan, which means "Heaven in Thai, is new to the Bangkok restaurant scene, having just opened in 2018. While new, it's already one of the best restaurants in Bangkok. Co-owner and Chef Sujira "Aom" Pongmorn provides a ten-course tasting menu that combines old world Thai recipes with a new, modern twist. An a la carte menu is also available.
Chef Aom's goal is to bring Thai street food to the restaurant table. "Despite having experience with molecular gastronomy, I have chosen not to use it at Saawan. Saawaan is all about the real food and real taste, not using anything to enhance the food," she said. "I want to 'wake up' food that is slowly dying or hard to find."
She counts the Nam prik among her favorite creations. With paddy field crab as the main ingredient, she added it to the menu after being introduced to it by a group of farmers. "I want to bring the very local style and way of eating to high-end restaurants," she said.
Ms. Leventhal recommends the tasting menu, but advises skipping the wine pairing and trying the Thai teas instead. "Sawwaan was out of this world," she says. "Something totally different for a blend of fine dining and Thai cuisine. The regional teas were so unique and not at all like the usual Thai tea found on the street."
Price range: 2,500 BHT ($80+)
Location:  39/19 Soi Suanplu, Sathorn Road, Thungmahamek, Sathorn
Phone number: +66 (0)2 679 3775-6
3.) Suhring 
German twins Thomas and Mathias Sühring bring their native cuisine to their adopted country at Suhring, where they offer a tasting menu of German-inspired dishes with a twist. Backed by Gaggan's chef Anand, the restaurant is only a year old but has already earned a coveted spot as number 13 on Asia's 50 Best Restaurants, making it one of the best restaurants in Bangkok.
Set in a restored glass townhouse overlooking a tropical garden, Shuring offers a romantic setting perfect for anniversaries and other special occasions. The open kitchen allows diners to watch as the chefs prepare their signature dishes, among them Himmel und Erde, a dish of crispy potatoes, black pudding and green apples, and Spätzle, a traditional German pasta dish.
While a la carte options are available, Ms. Leventhal recommends indulging in the 8 or 12-course option, saying "it won't disappoint."
Price range: 2,400 BHT+ ($70+)
Location:  10 Soi Yen Akat 3, Yan Nawa, Bangkok
Phone number: +66 2 287 1799
2.) Nahm
Nahm has ranked in the top 10 restaurants in Asia for the last 5 years and is currently holding strong at number 5. Nahm describes itself as specializing in "the strong, fresh flavors of traditional Thai cuisine." Located within Bangkok's COMO Metropolitan Hotel, the restaurant has a one Michelin star rating and is by far one of the best restaurants in Bangkok.
"It's a creative, modern take that showcases the depth of Thai cuisine," describes Ms. Leventhal. "Chef Pim makes a coconut and turmeric blue crab curry that you'll be dreaming about for months to come."
The menu is inspired from ancient Thai recipes, with a focus on the interaction of flavor and texture. While diners have the option of a la carte or prix fixe menu, the latter is the preferred option so you can truly experience it all. Highlights include betel leaf canapés with a spicy pork, herb, and crunchy rice cracker mixture, as well as skewered mussels coated in a southern-style spicy marinade.
Price range: 800 and 1600 THB($24 – $60)
Location: Ground Floor, The Metropolitan Hotel, 27 South Sathorn Road, Bangkok
Phone number: +66 (0) 2625 3333
1.) Gaggan
It's no surprise that Gaggan has ruled as number one in Asia's 50 best restaurants for the past four consecutive years. With two Michelin stars, it's self-described as "progressive Indian cuisine," the restaurant recently moved from number 7 to number 5 Best Restaurant in the World and is not only one of the best restaurants in Bangkok, but, some would argue, the best.
At Gaggan, it's all about creativity and inspiration. Chef Gaggan Anand, featured in the Netflix show Chef's table, is continually updating his tasting menu. The menu offers 25+ courses, all served as small-bites, and all described in emojis.
An added bonus? The majority are encouraged to be eaten with the hands. Or, in some cases, licked directly from the plate. Course highlights include longstanding favorite Yoghurt Explosion, as well as aubergine Oreo biscuits, Mexican-inspired taco bites, Japanese-Indian nigiri sushi, and so much more.
"It was by far one of the best, most playful and most unique meals I've ever had in mylife," Ms. Leventhal says. "I don't think I picked up a utensil once! I've eaten at Septime, Eleven Madison Park and Le Cinq, so I'm pretty qualified to make that judgment."
Ms. Leventhal recommends getting the off-menu wine tasting as well if you really want to be blown away.
Make sure to book a reservation ASAP.  Gaggan receives over 500 reservation requests a day, and won't be around for much longer. Chef Anand will sadly be closing his restaurant in 2020.
Price range:  More than 2400 THB ($72+)
Location: 68/1 Soi Langsuan, Ploenchit Road, Lumpini, Bangkok 10330
Phone number: +66 2 652 1700