Did Someone Say Bottomless? Top 5 Boozy Brunch Spots In NYC
Bottomless brunch in NYC is the best way to spend a Sunday-Funday. Find out where to indulge in a DIY mimosa bar, bottomless pitchers of margaritas, and all you can drink horseradish bloody marys.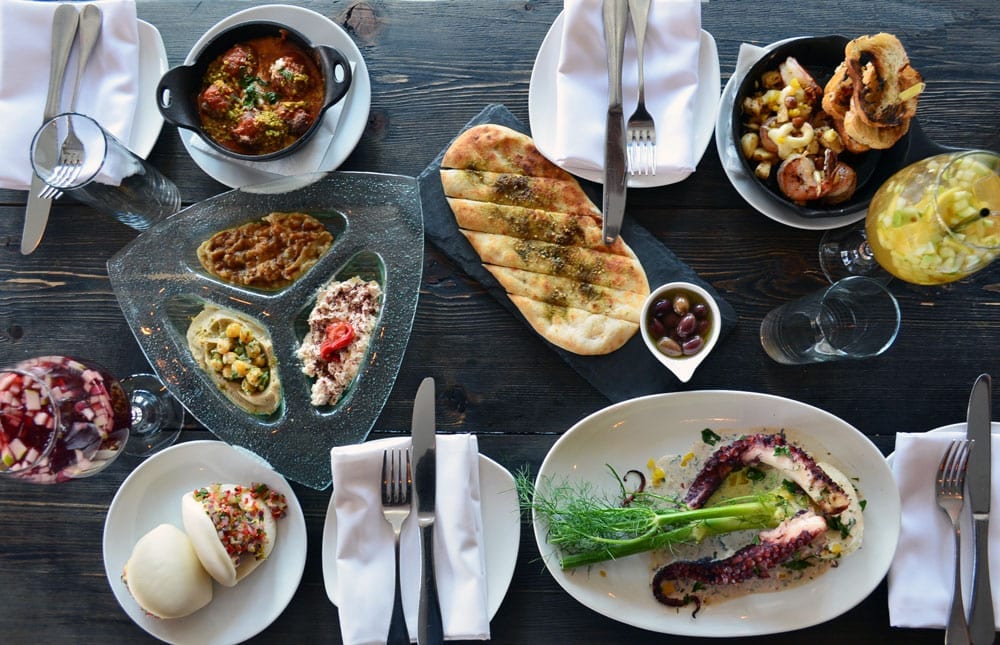 As every NYC girl knows, finding the best bottomless brunch in NYC isn't just a challenge, but a way of weekend life. There's no better way to cap off a weekend than with an endless supply of Bloody Marys or mimosas. Add a great entree and an affordable price tag, and bam: your perfect Sunday.
NYC does a lot of things well and bottomless brunches are one of them. Whether you're looking to cure a hangover from overindulging at Threesome Tollbooth last night (one of the hottest speakeasies in NYC, in case you haven't yet heard of it), enjoy a few glasses of champs before checking out the latest exhibit at The Met (or any of NYC's other top museums), or just catch up with old friends over a few pitchers of margaritas, NYC has you covered.
Here's where to find the best bottomless brunch in NYC:
5.) Mezetto
Located in the Lower East Side, Mezetto is a Mediterranean restaurant that specializes in small dishes (i.e., shared plates). It's small but cozy, with a mix of regular and high-top tables and massive windows that are open in warmer months. And — if you like the idea of all you can drink mimosas — it's the best bottomless brunch in NYC for you! Bonus: they serve brunch and bottomless mimosas every day of the week!
Menu highlights include The Mezzeto Platter (fried eggs, Israeli salad, quinoa, avocado, labane), grilled cheese with tomato soup and challah french toast for those looking for something a bit sweeter.
Location
Lower East Side: 161 E. Houston St.
Deal
$20 (on top of brunch entree) for bottomless peach, orange, pomegranate, or passion fruit mimosas, or bottomless red or what sangria. Both options are limited to 90 minutes, so drink up!
Brunch Hours
Daily: 10 am – 5 pm
Local Tip
You can have bottomless brunch every day of the week at Mezetto. While most places only serve brunch on the weekends, Mezetto caters to those fortunate to be able to have a boozy brunch on a Wednesday.
4.) Essex
Like many "it" spots in NYC, Essex caters to the Chanel-meets-vintage-Levi's crowd of hip millennials seeking cheap booze and good food. If you're looking for a trendy, Lower East Side brunch spot to see and be seen (while consuming endless mimosas), then Essex has the best bottomless brunch in NYC for you.
The food is your basic American brunch with a few signature Jewish staples such as matzo, latkes and lox sprinkled in some of the dishes. Favorites include Lobster Benedict, The Aristocrat (potato pancakes, house-cured salmon gravlax, salmon caviar, sour cream and poached eggs) and Mexican Matzo Brie, which is akin to Chillequilles (scrambled eggs, tortilla crisps, Monterey Jack, black beans and avocado pico de gallo).
Location
Lower East Side: 120 Essex St.
Deal
$32.95 includes a choice of entree and unlimited Bloody Marys, screwdrivers and mimosas.
Brunch Hours
Saturday: 10 am – 4:30 pm
Sunday: 10 am – 7 pm (yes, that's correct — you can indulge in bottomless brunch until 7 pm)
Local Tip
While Essex is great for catering to large parties, it charges more for groups of 8. Keep your group under 8, otherwise, it bumps up the price to $41.95 per person. 
Like most places, there isa time limit, so drink up! If you go before 3:00, you have 90 minutes; however, if you choose to dine after 3 pm, you have 120 minutes. 
Can't make brunch? Check out some of Essex's happy hour specials, which include dollar oysters and half-price drinks.
Happy Hour:
Monday – Wednesday: 5 pm – 8 pm
Thursday: 5 pm – midnight
Friday: 5 pm – 8 pm
Sunday: 6 pm – 10 pm
3.) Sotto 13
If you like Italian food and the idea of a DIY prosecco bar, then Sotto 13 has the best bottomless brunch in NYC for you. While it didn't make our list of the Best Pizza Joints in NYC (there were too many to choose from), it does have amazing wood-fired pizza and the option of delicious cocktails or a DIY mimosa bar and let's face it: bottomless mimosas and pizza makes for a pretty good brunch!
Located in a historic brownstone in the West Village, Sotto 13 features a pre-fixe brunch with the option of adding a DIY prosecco bar. Everything is served family-style, so make sure to go with people who have similar tastes as you! Menu favorites include eggs benedict, focaccia french toast, smoked salmon toast and, of course, the Monte Cristo Pizza: smoked gouda, Canadian bacon, grilled pineapple and black pepper syrup.
If you go the prix fixe option, cocktails are included and consist of Bloody Marys, pomegranate screwdrivers or variations of mimosas including traditional, hibiscus and passion fruit. If you choose the DIY route, there will be an additional cost of $25, which includes three seasonal fresh fruit purées, two liquors and garnishes and, of course, a bottle of prosecco. If you choose to add on, each additional bottle of prosecco will be $40.
Location
West Village: 140 W 13th St.
Deal
Brunch is served family style and is $35 per person; add $25 for the DIY prosecco bar. 
Brunch Hours
Saturday and Sunday: 11 am – 3 pm
Local Tip
Not feeling brunch? Check out Sotto 13's Sunday happy hour instead! 50% off all wine bottles and just $13 for a wood-fired pizza.
2.) Pardon My French
Pardon My French (or PMF) is a Parisian-style bistro in NYC's Alphabet City serving Mediterranean-influenced tapas and modern French cuisine. It's a happening place, where music is blasting and patrons come fashionably dressed, so don't roll up in your yoga pants. It caters well to small groups or larger parties and is a favorite amongst bachelorette parties. In addition to a small selection of seating out front, PMF has a charming back patio.
A "Regular Brunch" is $19.95 and includes coffee and tea plus the choice of one entree, while the "Bottomless Brunch" option include bottomless Bloody Marys or mimosas plus the choice of one entree. Menu highlights include the Brioche Francais Toast, Oeufs Tunisien (eggs baked in terracotta with spicy tomato sauce, feta cheese and capers) and Grille Steak & Fromage Sandwich (grilled strip steak, melted white cheddar cheese, lettuce, avocado and tomato).
Location
Alphabet City: 103 Ave B
Deal
$29.95 entitles you to Bottomless Brunch, which includes: bottomless Bloody Marys with house-infused horseradish vodka or mimosas, plus one entrée.
Brunch Hours
Saturday – Sunday: 11 am – 4 pm
Local Tip
Make a reservation, as this place books up and lines can be long. It's cash only, so come prepared. The Bloody Marys are delicious but strong, so pace yourself (or don't, depending on what type of Sunday Funday you're looking to have).
Similar to most places serving bottomless brunch in NYC, there is a time limit of 90 minutes.
1.) Agave
If Mexican fare and endless pitchers of frozen margaritas are your idea of a Sunday Funday with the best bottomless brunch in NYC, then Agave is the place for you.
This West Village hot spot serves a two-hour bottomless brunch for just $32.95, which includes an entree and choice of endless frozen margaritas, mimosas or wine. It's larger than most restaurants in NYC and has several private areas for parties, plus ample outdoor space. Similar to PMF, Agave is a hotspot for birthday brunches and bachelorette parties.
Menu highlights include Lobster Benedict (a crowd-pleaser for all seafood lovers), The Sunrise Fiesta Burrito (your classic breakfast burrito complete with eggs, chicken, chorizo, potatoes, peppers, onions, salsa, cheese and avocado crema) and Texas Pecan Apple Pancakes.
Location
West Village: 140 7th Ave S.
Deal
$32.95 for entree and choice of bottomless margaritas, mimosas or wine.
Brunch Hours
Friday – Saturday: 11:30 am – 3 pm
Sunday: 11am – 3 pm
Local Tip
This place books up fast — particularly in the summer when their outdoor tables are coveted by sun-seekers. Make sure to have a reservation but even with one, be prepared to wait.