The Coolest Neighborhoods to Visit in Paris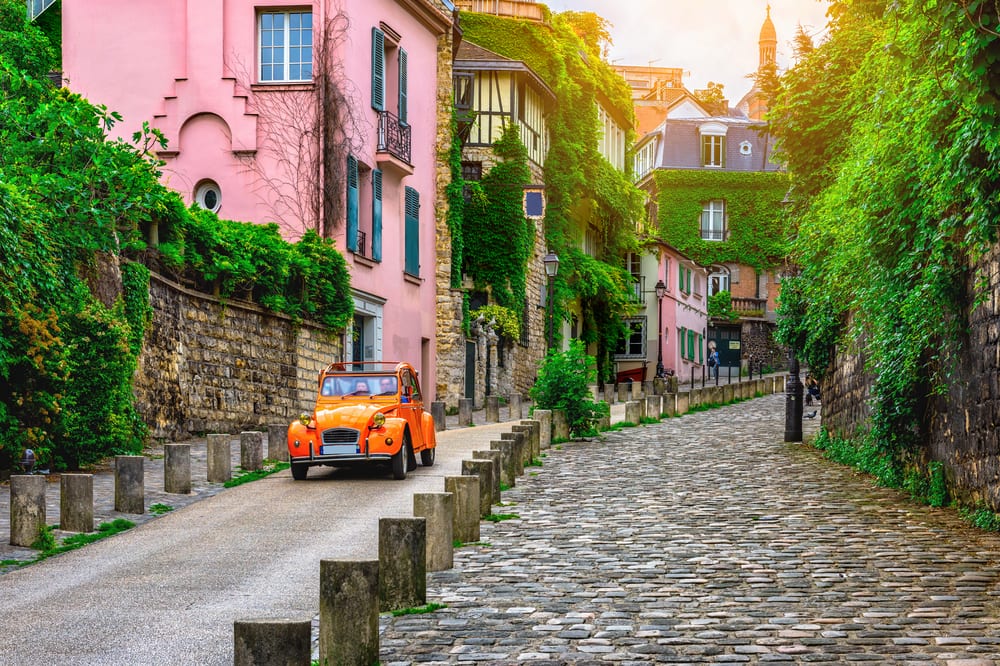 The thrill of discovering a new city is coupled with the daunting task of ticking everything off your bucket list. Paris, with its 20 arrondissements or "districts," presents a challenge: which should you prioritize? The good news is that every Paris neighborhood is worth visiting; you can explore the tourist hotspots like the Eiffel Tower, Louvre and Seine River, or venture off the beaten path to immerse in the rich and diverse arts and culture scene the city has to offer. Why not strike a balance between the two? We've got some fabulous recommendations for the most beautiful and iconic Parisian neighborhoods. From the classic to the trendy to the hipster, don't miss these amazing Parisian hotspots.
5. Art & History: Montmartre
If you're familiar with Paris, the mere mention of Montmartre should pique your interest. It's earned a reputation as one of the city's most popular neighborhoods, luring visitors to its idyllic hilltop village. The Parisian charm on every corner, stunning views atop the Butte hill, and profound 19th-century artistic legacy combine to enthrall tourists. Among Montmartre's main attractions is the Basilica of Sacre-Coeur, a beautiful white church at the hilltop. Art and history aficionados will revel in the many tales and anecdotes woven into its history. Montmartre certainly has something for everyone to explore.
Can't miss things to do in Montmartre:
Museum of Montmartre – To learn more about the rich history of Montmartre, you can't miss the Musee de Montmartre which was also a former home to many French artists and writers.
Place du Tertre – The main plaza in Montmartre is only a few streets away from the Basilica of Sacré Ceour and is filled with restaurants, cafes and local street artists. The Place du Tertre is the former stomping grounds of famous artists like Van Gogh, Picasso and Toulouse-Latrec.
Moulin Rouge – Visit the famous Frenchcabaret that was founded in 1885 and experience the entertaining atmosphere of can-can.
4. Nightlife: Oberkampf
While the 11th arrondissement may not be the typical Parisian guidebook hot spot, Oberkampf certainly deserves your attention. This lively neighborhood shines after dark, boasting some of the most vibrant bars and restaurants in the city. What's more, Rue Obekampf offers one of the few genuine happy hours in Paris, all with a much-needed dose of respite from crowds of tourists.
With its dynamic, fun-loving ambiance, Oberkampf guarantees a night full of drinks, good eats, and electric energy. Trust us when we say, boredom is not an option in this bustling stretch of town.
Top bars and restaurants in Oberkampf:
Cafe Charbón – Rated as one of the best bars in Paris, Café Charbon is a historic bar dating back to 1900. The classic bar has been serving up drinks to Parisians since then and has kept the good vibes going. The summer terrace is where its at.
Auz Deux Amis – Another bar boasting top notch beer, wine and all-natural dishes to indulge in with your friends on a night out in Paris.
3. Le Marais
Leais is the perfect cultural haven in Paris, where Jewish, LGBTQ, and artistic history interweave. A leisurely stroll through the streets transports you to a world of classic Parisian charm. The neighborhood is trendy but retains its laid-back vibe, making it a must-visit during your Paris travels.
Although the streets of Le Marais can be bustling, it's one of the trendiest neighborhoods in Paris. During the weekend, cars give way to pedestrians, who eagerly explore the shops, restaurants, and cafes. The town is relatively calmer during weekdays, but still radiates the same warm Le Marais charm that has earned it its name in French.
Can't miss in Le Marais:
Galerie Thaddaeus Ropac – The Galerie Thaddaues houses exhibits of both up and coming and well-known artists in the area. Get your contemporary art fix at this sleek gallery in the heart of Le Marais
Musee Carnavalet – A museum catering in all things Paris history that is also situated between the two gorgeous mansions of Hotel Carnavalet and Hôtel Le Peletier de Saint Fargeau.
L'As du Falafel – A popular Kosher Middle Eastern spot that is famed for its delicious falafels. Grab a falafel sandwich while exploring the historic Jewish quarter in Le Marais.
READ MORE: 5 MUST-SEE ATTRACTIONS ENCAPSULATE THE QUINTESSENTIAL PARIS EXPERIENCE
2. Canal St Martin
Discover the charming Canal Saint Martin by renting a bike and admiring the scenic Parisian waterside. The area has long been a favourite of Parisians seeking respite, who unwind with a picnic by the river or leisurely stroll over the iconic iron footbridges. This trendy neighbourhood is bursting with captivating sights and will offer a unique perspective into Parisian life. From chic boutiques to culinary gems and watering holes aplenty, there's no shortage of stylish spots to explore!
Can't miss in Canal Saint Martin:
Le Coq – A grungy underground bar that serves up a mean cocktail. If you're a cocktail connoisseur then you can't miss this hot Parisian bar.
Du Pain et des Idées – You can't go all the way to Paris without visiting a traditional french bakery. Du Pain et des Idées is not just any French bakery either. This spot is loved by locals drawing them in from all over the arrondissements of Paris.
La Trésorerie – Get all of your Scandinavian minimalism vibes from visiting this boutique in Canal Saint-Martin. This shop specializes in unique home goods found all over Europe and serves up some great food and drinks while doing it.
1. Belleville
If you're after a Parisian experience without the tourist traps, Belleville is where it's at. This neighborhood boasts a perfect balance of great shops and food, and offers a refreshing break from the hectic pace of the city with its serene nature spots. History buffs will also appreciate that it's home to Edith Piaf's childhood apartment. Delve into music history as you stroll through the charming streets. With its allure of art, rich history, and laid-back vibes, Belleville is a Paris neighborhood that definitely deserves a place on your itinerary.
Can't miss in Belleville:
Parc de Belleville – A stunning view of Paris through the lush green frame of the park.
Brulerie de Belleville – The popular coffee house in Paris that offers tastings and labs on the weekend.
Rue Denoyez – A street filled with amazing street art and the site of your next Instagram shot.