Top 5 Spots for Diving in Thailand
Whether you're new to diving or a pro, diving in Thailand is a unique and memorable experience. Discover the top dive spots in Thailand and what to expect at each.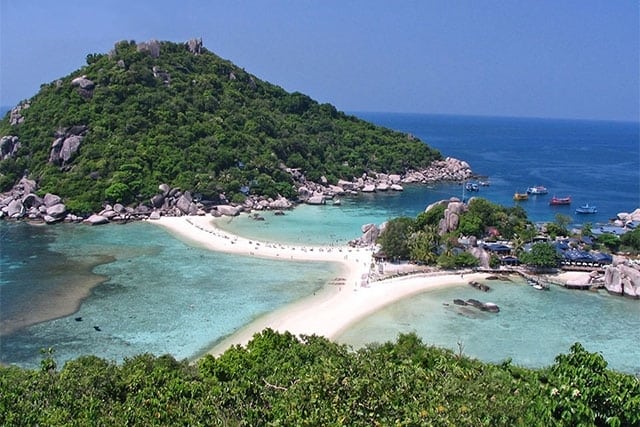 People go to Thailand for many reasons: some for Bangkok's Michelin-starred restaurants, others for the affordable quality of life the islands offer, and others for a bit of adventure. If you're in the latter category, check out diving in Thailand. With the country's turquoise blue waters and more than 1,200 miles of shoreline, it's the perfect dive spot for both newbies and pros.
Here are the best places to dive in Thailand.
5.) Diving in Thailand: Sail Rock, Koh Tao
Thailand's Koh Samui Archipelago is made up of three islands: Koh Samui, Koh Pha Ngan and Koh Tao, as well as a marine national park. Koh Tao is one of the best places for diving in Thailand.
Sail Rock, also known as Hin Bai, is a small island off Koh Tao. Approximately 90 minutes away by boat, it boasts some of the best diving in Thailand due to its remote location. Sail Rock is named for its shape: It's an actual rock sitting approximately 26 feet out of the water. The dive site below stretches over 131 feet below the surface in some areas. Experienced divers can explore the rock's cave, also known as the chimney, which is about 16 feet deep and extends 26 feet back.
Newbie divers should steer clear of the chimney and instead enjoy the sea life, including pin cushion sea stars, giant moray eels, and large schools of fish.
How to Get to Sail Rock:  
You can take a mix of planes, trains, automobiles and boats to get to Koh Tao.
If you're coming from Bangkok, you can take a local flight to Chumphon from either Suvarnabhumi Airport or Don Mueang International Airport. Once in Chumphon, you'll need to go to the ferry station, which can be reached via train, taxi or bus. Once in Koh Tao, various dive companies offer excursions to Sail Rock.
4.) Diving in Thailand: Surin Islands
Located in the Tha province of Phang Nga, the Surin Islands are some of the most remote islands in Thailand. The string of islands is located approximately 37 miles from the west coast of mainland Thailand, making it unspoiled from the tourist crowds that frequent other areas of Thailand.
Divers can expect to see massive schools of fish, vast coral reefs and even manta rays and whale sharks. Visibility in the Andaman Sea is crystal clear, making it an ideal spot for snorkeling as well. The islands are part of a UNESCO development and have been a Marine National Park since 1981.
How to Get to Surin Islands  
The Surin Islands are a bit complicated to get to, as there is no airport and no pier. The easiest (and quickest) way is from Phuket. You can take a local airline from Bangkok to Phuket and, once there, either charter a speedboat or liveaboard. Speedboats take approximately 1 hour from Phuket, while liveaboards can take upwards of 3 hours.
3.) Diving in Thailand: HTMS Chang, Koh Chang
Located close to Bangkok, Koh Chang has been a "locals" dive spot for a number of years. The island, located in the Gulf of Thailand, boasts a lush rainforest and beautiful coral reefs but has become popular among divers for another reason: shipwreck diving.
The USS Lincoln County was launched in 1944 and commissioned for the United States Navy for World War II efforts. It went on to serve during the Korean War and was decommissioned in 1961 and given to the Royal Thai Navy. In 2012, it was sunk just four miles off the coast of the island. At 328 feet, it is the largest shipwreck in the country and a favorite among divers who like to explore shipwrecks.
How to Get to HTMS Chang 
Getting to Koh Chang is easy. It's a 5-hour drive from Bangkok, so you can either rent a car or hire a private driver. Buses are available as well. Alternatively, you can take a ferry, though it takes approximately 12 hours.
2.) Diving in Thailand: The Island of Koh Ma
If you're a newbie looking for diving in Thailand, Koh Ma is a perfect place to start. Koh Ma is a small island to the northwest of Koh Phangan. Not far from the shore of Mae Haad Beach on Koh Phangan, the island is attached to Koh Phangan by a sandbar, making it easy to get to, as you can simply walk across the sandbar.
Koh Ma boasts a vast array of sea life, including parrotfish, reef fish, butterfly fish, and even barracudas, stingrays and seahorses. It's a shallow dive, which is why it's perfect for beginners. Visibility ranges between 10-40 feet, and currents are rare.
How to Get to Koh Ma
As with most of Thailand's small islands, you can reach Koh Ma via a mix of planes, trains, cars and boats. You'll need to reach Chumphon first, which can be done either by bus, car, train or flight. Once there, you can take a ferry to Koh Phangan and then taxi or car service to Koh Ma.
1.)  Diving in Thailand: Hin Daeng and Hin Muang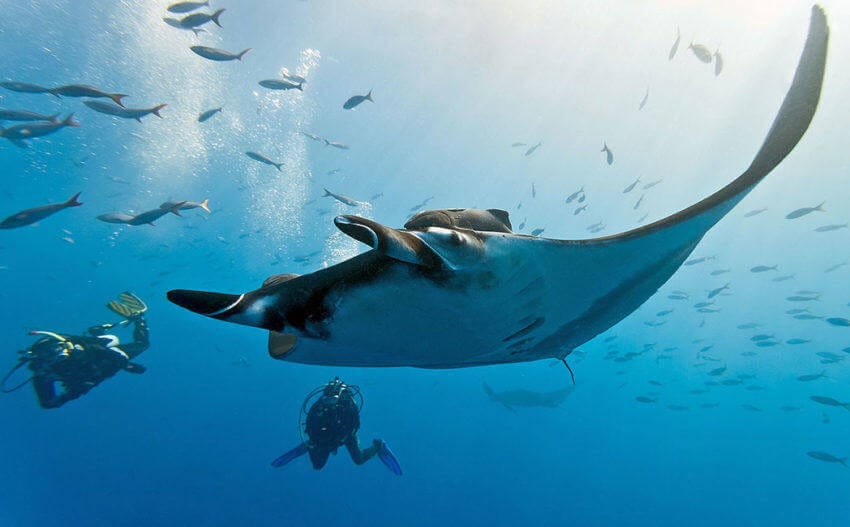 Hin Daeng and Hin Muang are two of the most famous spots for diving in Thailand—some say they're the best in the world.
Located in the Phang Nga Bay off the island of Koh Lanta just south of Phuket in the southern Andaman Sea, the dive sites are protected by Mu Koh Lanta National Park. In addition to schools of multi-colored fish, the coral reefs are home to whale sharks and manta rays. Hin Daeng, also known as Red Rock, is made of soft red coral. Hin Muang, also known as Purple Rock, is comprised of soft purple coral, and its vertical wall is the tallest in Thailand. Currents can be strong, but the dive sites offer plenty of shelter. Hin Muang is best for experienced divers; its currents provide more of a challenge. It's a hot spot for liveaboards.
How to Get to Phang Nga Bay
Phang Nga Bay is easily reachable from Phuket. Most people fly into Bangkok and then connect on a domestic flight to Phuket and catch a ferry to Phang Nga Bay.